Emeril's Mozzarella and Tomato Bites with Kalamata Olive Drizzle
Take A Bite Out of These!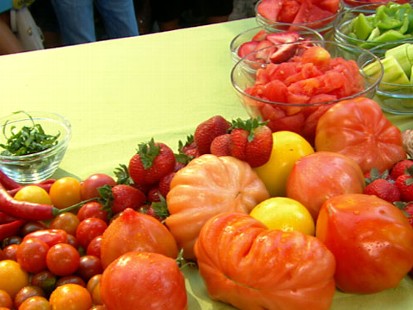 The chef whips up some zesty summer meals in height of tomato season.
From the kitchen of Emeril Lagasse
Looking for a delicious summer snack. Give these a try.
Ingredients
20 to 25 small grape or cherry tomatoes, halved
40 to 50 small fresh basil leaves 8 ounces ciliegine (see Note), drained and patted dry, halved
1/4 cup chopped pitted Kalamata olives
1/2 cup extra-virgin olive oil
1/4 teaspoon minced garlic
1/4 teaspoon crushed red pepper
2 tablespoons minced fresh oregano or marjoram
1/4 teaspoon salt
Kosher salt, for garnish
Cooking Directions
Using small decorative cocktail skewers or bamboo toothpicks, skewer 1 tomato half, 1 basil leaf, and 1 ciliegine half onto each skewer, kebab-fashion, with the basil leaf sandwiched between the mozzarella and tomato halves and the cut sides of the tomato and mozzarella facing each other. Repeat until you have used all of the ciliegine halves. You should have about 42 filled skewers. Arrange on a small serving platter and set aside.
In the bowl of a blender or food processor, combine the olives, olive oil, garlic, crushed red pepper,
oregano, and salt, and process until smooth. Drizzle the olive mixture over the tomato-mozzarella
skewers. Sprinkle the entire platter with kosher salt, and serve immediately.
Note: Ciliegine are cherry-size balls of fresh mozzarella, available at upscale Italian markets and some
gourmet grocery stores. If these are unavailable in your area, simply substitute 1-inch cubes of fresh
mozzarella.
This recipe was styled by chef Karen Pickus for Good Morning America.
Recipe courtesy Emeril Lagasse, from Emeril 20-40-60: Fresh Food Fast, HarperStudio Publisher, New York, 2009, copyright MSLO, Inc., all rights reserved
Recipe Summary
Main Ingredients: tomato, kalamata olives, mozzarella
Course: Appetizer/Starter, Side Dish, Snack
More Info: Kid Friendly