Jeff Mauro's Warm Bacon Tarragon Potato Salad
Take a Bite Out of This Herby, Smokey Side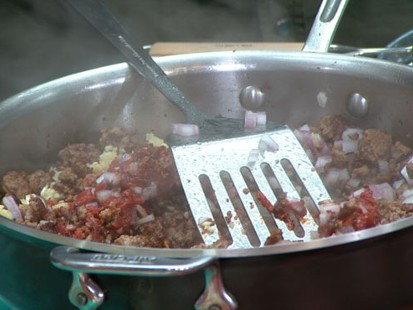 "The Sandwich King" Jeff Mauro makes Greek tacos and Jamon Jibarito.
From the kitchen of Jeff Mauro
|
With so many different kinds of potato salad out there it's hard to pick which recipe to make. Chef Jeff Mauro makes it easy with his delicious bacon and tarragon version. Plus, it goes perfectly with a sandwich.
Ingredients
2 pounds medium red potatoes, scrubbed and quartered
1 tablespoon table salt
8 ounces thick-cut bacon, cut crosswise into 1/2-inch strips
1 small yellow onion, diced
1/2 cup apple cider vinegar
1 tablespoon whole-grain mustard, German-style preferred
Salt and freshly ground black pepper
1 1/2 tablespoons fresh tarragon, finely chopped
Cooking Directions
Place the potatoes in a large pot and fill with cold water to 1-inch above the potatoes. Season the water with the table salt. Bring to a simmer and cook until a knife gently plunges through the potatoes, about 15 minutes. Reserve 1/3 cup of the cooking water, drain the potatoes and put back into the pot (off the heat) to keep warm.
Meanwhile, fry the bacon in a skillet over medium heat until crispy, stirring occasionally. Reserve the bacon and drain all but 1/4 cup bacon fat. Add the onions and saute until slightly golden. Add the vinegar and, with a wooden spoon, scrape up any bits from the bottom of the skillet. Add in the reserved cooking water and reduce until it thickens, about 3 minutes. Off the heat, whisk in the mustard and season with salt and pepper. Add in the potatoes, bacon and tarragon and toss to combine. Adjust the seasoning if necessary.
This recipe was styled by chef Karen Pickus for Good Morning America.
Recipe courtesy Jeff Mauro.
Other Recipes That You Might Like