Mario Batali's Cherry Jam Tart
Dig Into This Summer Treat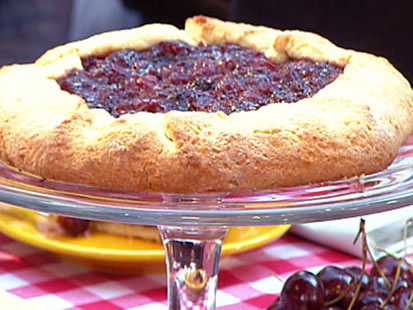 From the kitchen of Mario Batali
|
Jam tarts are a blast of summer when you enjoy them warm on a cold snowy
winter day. Their success relies on the quality of the homemade jam. If
you do not have homemade jam on hand, find a friend who makes it, or a
farmers' market that has a good supply of it. Smucker's will not do.
Ingredients
2 ½ cups all-purpose flour
½ cup superfine sugar
Pinch of salt
Grated zest of 1 lemon
½ pound (2 sticks) unsalted butter, cut into ½-inch pieces and chilled
3 large egg yolks
1/3 cup cold vin santo, plus the rest of the bottle for your friends
2 cups cherry jam
2 or 3 turns of the peppermill
Cooking Directions
Makes 8 to 10 servings
Combine the flour, sugar, salt, and zest in a food processor and pulse 2
or 3 times to mix. Ad the butter and pulse until the mixture resembles
coarse crumbs.
In a small bowl, beat the egg yolks together with the cold vin santo. With
the machine running, add to the flour mixture and process for 5 to 6
seconds, or until the dough comes together and leaves the sides of the
work bowl. Turn the dough out, shape it into a disk, and wrap in plastic.
Refrigerate for at least 30 minutes.
Preheat the oven to 425° F. Butter a large baking sheet or line it with
parchment.
Thin the cherry jam with a teaspoon or two of the hot water, stirring
until smooth. Add a few grindings of pepper to heighten the flavor of the
sherries and stir again. Set aside.
On a floured surface, roll out the dough to a circle about 12 inches in
diameter. Transfer it to the prepared baking sheet. Leaving a 2-inch
border uncovered, spread the cherry mixture over the dough. Fold the edges
of the dough up over the jam, pleating it as necessary.
Bake the tart for 20 to 25 minutes, or until the pastry is deeply golden
and the filling is glossy. Cool on a rack for several minutes, and serve
warm with glasses of vin santo.
This recipe was styled by chef Karen Pickus for Good Morning America.
Recipe courtesy Mario Batali.
Other Recipes That You Might Like