Marcus Samuelsson's Red Berry Cobbler
Finish Your Dinner With This Sweet Treat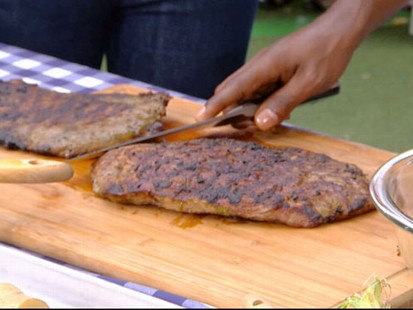 "Top Chef" master shows us some good eats on the grill.
From the kitchen of Marcus Samuelsson
Nothing quite spells summer like a fresh fruit cobbler. This version from Marcus Samuelsson is the perfect blend of cherries, strawberries and raspberries. Try it this weekend. Your family will thank you!
Ingredients
2 cups all-purpose flour
3 tablespoons granulated sugar
1 cup light brown sugar
1/2 teaspoon baking powder
1/2 teaspoon baking soda
1/2 teaspoon salt
1/2 teaspoon cardamom powder
1/2 teaspoon cinnamon powder
6 tablespoons cold, unsalted butter, cut into small pieces
1 cup buttermilk
1 vanilla bean, split in half lengthwise and seeded
1/2 cup honey
Zest of 1 lemon
2 tablespoons cornstarch
1/2 cup red wine
2 cups dried sour cherries
2 cups raspberries
2 cups strawberries, hulled and cut in half
Cooking Directions
Preheat the oven to 400°F.
Stir together the flour, granulated sugar, 4 tablespoons of the brown sugar, baking powder and baking soda, salt cardamom and cinnamon. Add the butter and blend with a pastry blender until the mixture resembles coarse meal. Add the buttermilk and stir with a fork until a dough forms.
Divide the dough into 10 pieces and pat each into a 2-inch patty. Arrange on a parchment lined baking sheet and bake until the biscuits are golden, about 15 minutes.
In a medium bowl combine the vanilla bean and seeds, honey, lemon zest and cornstarch. Set aside. In a medium saucepan over medium heat bring the red wine to a boil. Stir in the honey mixture and reduce heat to a simmer; cook until the mixture thickens slightly, stirring continuously, about 2 minutes. Stir in the cherries, raspberries, strawberries, and 1/2 cup of the brown sugar and cook until the sugar dissolves, another 3 minutes. Remove from heat and discard the pod
Butter a 4-ounce ramekin. Place 5 of the biscuits in the bottom of the baking dish. Spoon the berry filling over the biscuits and crumble the remaining 5 biscuits over the top. Bake until bubbling, about 10-15 minutes. Serve with scoop of vanilla ice cream.
This recipe was styled by chef Karen Pickus for Good Morning America.
Recipe courtesy Marcus Samuelsson.
Recipe Summary
Main Ingredients: cherries, strawberries, raspberries
Course: Dessert