Amy Green's Apple Butter
Treat Yourself to Fresh Apple Butter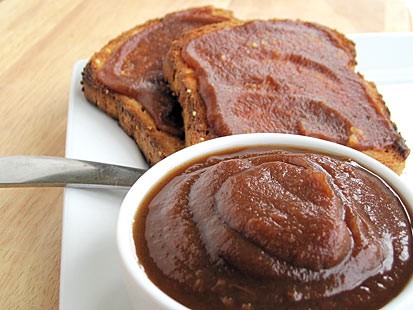 From the kitchen of Amy Green
|
Ever thought about making your own apple butter? Now's the time to try it.
Ingredients
4 to 5 pounds apples, cored and sliced
1/2 to 1 cup unsweetened frozen apple juice concentrate, divided
1/2 teaspoon ground allspice
1/4 teaspoon ground cloves
1/4 teaspoon freshly grated nutmeg
1 1/2 to 2 teaspoons ground cinnamon, divided
pinch of salt
Cooking Directions
Place the apples in a large (5- or 6-quart) slow cooker. Melt 1/2 cup apple juice concentrate in the microwave or on the stovetop and pour over the apples. Sprinkle the apples with the allspice, cloves, nutmeg, 1 1/2 teaspoons cinnamon, and the salt. Gently stir with a large wooden spoon. Place the lid on the slow cooker and cook on low for 8 to 10 hours, or overnight.
Check the apples after 8 hours. If they need to be cooked longer, leave the slow cooker on. If the apples are soft, puree with an immersion blender while the apples are still in the slow cooker. Or you can transfer them to a food processor or blender and puree in small batches. Taste and adjust the seasoning, adding the remaining 1/2 cup apple juice concentrate and 1/2 teaspoon cinnamon for sweetness, if desired. Continue to cook on low with the lid off until the apple butter is thick.
Store in glass jars in the refrigerator for two months, or freeze. To can, process in a water bath canner for 10 minutes.
Quick Tip: Don't bother peeling the apples. The skin helps create a thicker apple butter and, once the apples are pureed, you won't even know it's there.
Recipe courtesy Amy Green author of Simply Sugar and Gluten Free.
Other Recipes That You Might Like