Ree Drummond's Marinated Tomato Salad with Herbs
Ree Drummond's Marinated Tomato Salad with Herbs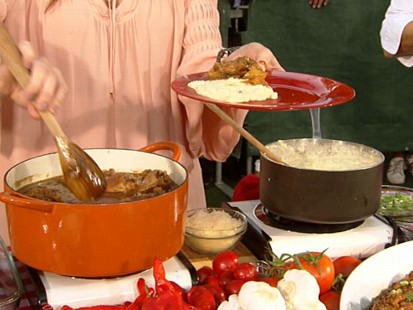 Best-selling cookbook author uses peaches, whiskey on her BBQ chicken thighs.
From the kitchen of Ree Drummond
Food Network host Ree Drummond's Marinated Tomato Salad with Herbs is a great way to get your family to eat their vegetables, and enjoy them too. The fresh ingredients and flavor from the herbs combine to make this salad something even a hardy, meat-loving cowboy would enjoy!
Ingredients
6 to 8 ripe tomatoes
4 green onions
1 cup extra-virgin olive oil
3 to 4 tablespoons balsamic vinegar
2 tablespoons brown sugar
Salt and freshly ground black pepper
Handful fresh parsley leaves, lightly chopped
12 fresh basil leaves, chiffonade
Cooking Directions
Cut the tomatoes into 4 wedges, then cut the wedges in half and add to a bowl.
Lop off the tops of the green onions, then slice the white and mostly light green parts really thin. Add to the tomatoes.
Add the olive oil, balsamic vinegar, brown sugar, dash of salt and pepper to a jar. Screw on the lid and shake to combine.
Pour the dressing over the tomatoes and toss.
Add the herbs and gently toss to combine. Cover and refrigerate for a few hours before serving.
Recipe Summary
Main Ingredients: tomatoes, basil, parsley
Course: Salad
More Info: Kid Friendly