Carla Hall's Buffalo-Style Burger
Take a Bite Out of This Burger at Your Independence Day Barbeque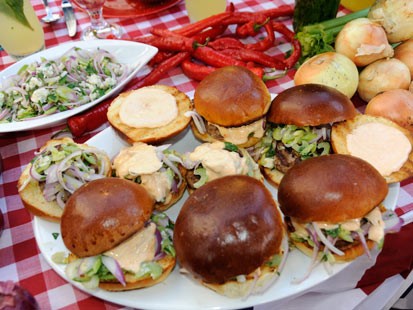 From the kitchen of Carla Hall
|
Gather up your family for a barbeque bash. Carla Hall knows how to dish out a good burger. Give it a try this weekend!
Ingredients
For the burger:
1 tablespoon butter
1/3 cup yellow onion, minced
2 cloves garlic, minced
2 teaspoons hot sauce
½ teaspoon dried thyme
1 tsp kosher salt
1½ teaspoons freshly ground black pepper, or to taste
½ teaspoon chile flakes
1¼ pounds coarsely ground chicken or turkey breast meat
For the slaw:
4 ribs celery, 1" pieces thinly sliced on the bias
½ cup red onions, very thinly sliced
¼ cup parsley leaves, roughly chopped
1 tablespoon red wine vinegar
2 tablespoons olive oil
½ teaspoon lemon zest
½ cup blue cheese, crumbled
½ teaspoon salt
¼ teaspoon freshly ground black pepper
For the mayo:
¾ cup mayonnaise
1 tablespoon lemon juice
1 tablespoon hot sauce
1-2 teaspoons honey
½ teaspoon cayenne pepper
Cooking Directions
For the burger:
Melt butter in small skillet on medium low heat. Cook onions and garlic until translucent and sweet, about 3 minutes. Add hot sauce, thyme, black pepper, and chile flakes.
Fold onion mixture into ground chicken. Gently form four patties.
For the slaw:
Combine ingredients in the order they appear. Place on burger or use as a side.
For the mayo:
Mix all of the ingredients together. Spread on burger bun.
This recipe was styled by chef Karen Pickus for Good Morning America.
Recipe courtesy of Carla Hall.
Other Recipes That You Might Like