Carla Hall's Strawberry Watermelon Parfait
Try This Refreshing Summer Dessert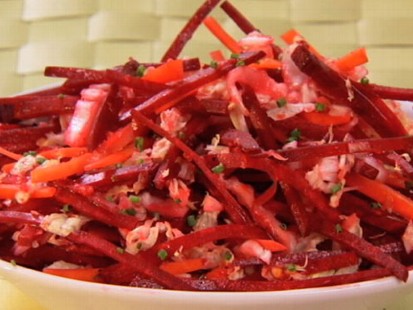 "The Chew" chef Carla Hall prepares a healthy and fresh beet slaw.
From the kitchen of Carla Hall
|
Take advantage of the summer fruits while you still can. This refreshing parfait is a great summer dessert and the perfect way to end any barbeque.
Ingredients
For the parfait:
1 pint raspberries
1/2 cup sugar
1 tablespoon lemon juice (reserve zest and remaining juice for cream)
1 small watermelon, about 3 cups 1/2-inch dice
1 pint strawberries, hulled and quartered
2 cups sponge cake, 1-inch cubes
For the lemon basil whipped cream:
1 tablespoon sugar
4 crispy basil leaves (see method below)
1 cup heavy cream
1 tablespoon lemon zest, finely grated
2 teaspoons fresh lemon juice
For the crispy basil leaves:
4 large basil leaves
1 teaspoon canola or vegetable oil
Cooking Directions
For the parfait:
Place raspberries, sugar, lemon juice and 1/4 cup diced watermelon in blender. Blend until smooth. Strain through fine mesh strainer into a large bowl. Add strawberries and remaining diced watermelon. Adjust additional sugar and/or lemon juice to taste, if necessary.
Layer sponge cake, fruit and lemon basil cream in parfait glasses. Top each glass with more lemon basil cream and garnish with basil leaf.
For the lemon basil whipped cream:
Using your fingers, rub the basil into the sugar until the basil is finely ground. In a medium bowl, combine cream, basil sugar, lemon zest and juice. Using a handheld mixer or immersion blender, whip the cream until soft peaks form. Adjust sugar, if necessary.
For the crispy basil leaves:
Rub basil leaves with oil on both side and place on a microwave safe plate. Microwave the leaves in 30 second intervals until the leaves are crisp and translucent, about 2 1/2 minutes.
This recipe was styled by chef Karen Pickus for Good Morning America.
Recipe courtesy Carla Hall.
Other Recipes That You Might Like