Clinton Kelly's Profiteroles
Whip Up These Profiteroles For Your Labor Day Bash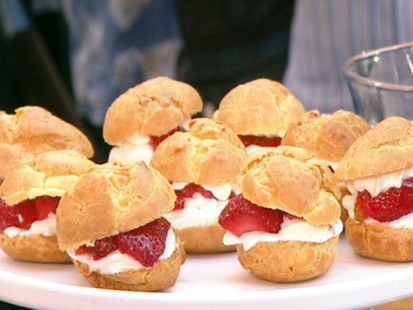 Clinton Kelly from "The Chew" explains how to party hard while saving cash.
From the kitchen of Karen Pickus
Try these delcious profiteroles with whipped cream and strawberries out at your next family event. They are a definite crowd-pleaser and won't break the bank!
Ingredients
For the profiteroles:
1 cup milk or water
1 tsp salt
1 tsp sugar
1 stick of butter
1 cup flour
4 large eggs
For the whipped cream:
2 cups heavy cream
3 Tbs. sugar
1 Tbs. vanilla extract
For the profiteroles:
2 pints strawberries
2 Tbs. sugar
Cooking Directions
To make the profiteroles:
Preheat oven to 400 degrees.
In a two quart pot, over medium heat, combine the first four ingredients. Bring to a boil. Remove from the heat. Add the flour all at once and stir to combine with a wooden spoon. Place the pot back over the heat and stir continuously for one minute. Remove from heat and put the mixture into an electric mixer, fitted with a paddle attachment. On medium speed add the first two eggs. Beat until fully incorporated. Then add the second two eggs and beat until they are fully incorporated.
Cover two sheet pans with parchment paper. With a pastry bag, fitted with a half inch round tip, pipe out two inch rounds of batter. Place in the preheated oven. Bake until golden brown throughout. Remove from the oven. Let cool completely.
To make the whipped cream:
Beat heavy cream with sugar and vanilla with a wire whisk until soft peaks are formed.
To prep the strawberries:
Wash and hull and quarter the strawberries. Place in a large bowl. toss berries with the sugar.
To assemble the profiteroles:
Cut the pastry puffs in half horizontally. Fill the bottom with the heavy cream. Place a few berries on top of whipped cream. Place another spoon of whipped cream on berries. Sandwich the berries and the cream with the top half of the pastry puff. Repeat with remaining puffs and serve with the extra berries.
Makes approximately 30 two inch profiteroles.
This recipe was created and styled by chef Karen Pickus for Good Morning America.
Recipe Summary
Main Ingredients: eggs, heavy cream, sugar, strawberries
Course: Dessert
More Info: Kid Friendly