The Deen Brothers' Double Fudge Bread Pudding
Savor this classic Southern dessert.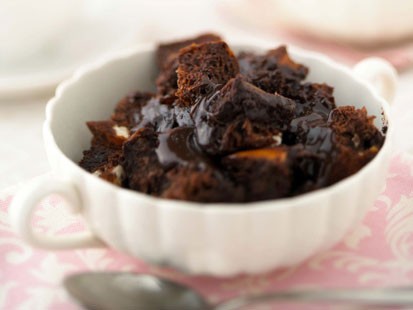 From the kitchen of Deen brothers
Make your Super Bowl showdown party the best on the block with tailgating recipes from the Deen Brothers.Jamie and Bobby Deen give you meal and snack ideas that will help make your sports gathering great.
Ingredients
Butter, for coating the pan
1 one-pound loaf day-old French or Italian bread, cut into cubes (about 15 cups)
1 pound semisweet chocolate, grated
1 cup granulated sugar
3/4 cup light brown sugar, packed
1/4 cup unsweetened cocoa powder
1 1/2 teaspoons ground cinnamon
Pinch salt
6 large eggs
1 tablespoon vanilla
3 cups milk
1/4 cup heavy cream
1/4 cup bourbon
Sweetened whipped cream
Cooking Directions
Butter a 13x9-inch baking dish. Spread the bread cubes in the prepared dish. Place the grated chocolate in a medium bowl; set aside.
In a large bowl, whisk together the sugars, cocoa powder, cinnamon and salt. Whisk in the eggs, one at a time. Stir in the vanilla.
In a medium saucepan, bring the milk and cream to a boil. Pour the mixture over the grated chocolate and stir until the chocolate is completely melted. Whisking constantly, slowly pour the chocolate mixture evenly over the bread cubes. Refrigerate pudding for at least 1 hour or up to 12 hours, stirring occasionally.
Preheat oven to 325 F. Bake the pudding about one hour or until just set and a knife inserted in the center of the pudding comes out clean. Serve the pudding warm or chilled with whipped cream.
Makes 12 servings
Courtesy of The Deen Brothers' Cookbook "Y'all Come Eat"
Recipe Summary
Main Ingredients: italian or french bread, semisweet chocolate, eggs, sugar, milk, heavy cream, whipped cream, unsweetened cocoa powder
Course: Dessert