Asian Chicken Salad
A Quick and Easy Recipe From the Dinner Doctor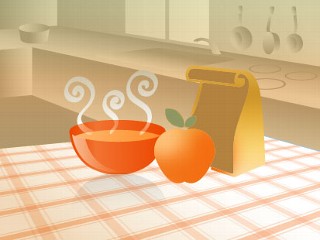 From the kitchen of Anne Byrn
|
On Good Morning America, author Anne Byrn shared her book for cooks on the go. "The Dinner Doctor" is chock full of ingenious recipes that show you how to turn supermarket convenience foods into savory dishes for your entire family.
Ingredients
1 package Oriental-flavor ramen noodle soup mix (3 ounces)
1/2 cup pre-sliced almonds
3/4 cup bottled red wine vinaigrette
1 package coleslaw mix (or broccoli slaw mix) (16 ounces)
2 cups cooked chicken, shredded
1/2 cup fresh cilantro leaves
2 scallions (1/4 cup), both white and light green parts, chopped
Cooking Directions
Preheat the oven to 350°F.
Break up the ramen noodles with your hands and place them and the almonds on a rimmed baking sheet. Bake until the noodles and almonds turn light brown, 6 to 7 minutes.
Meanwhile, pour the red wine vinaigrette into a measuring cup and stir in the packet of seasoning from the ramen noodle soup mix. Set the salad dressing aside.
Place the slaw mix, chicken, cilantro, and scallions in a large serving bowl. Toss to combine the ingredients well.
Just before serving, pour the salad dressing over the salad and toss to coat. Scatter the toasted almonds and noodles on top and serve.
Recipe excerpted from The Dinner Doctor, by Anne Byrn, ©2003
Other Recipes That You Might Like