Wolfgang's Strawberry Swirl Cheesecakes
A Creamy, Rich Dessert With a Sweet Swirl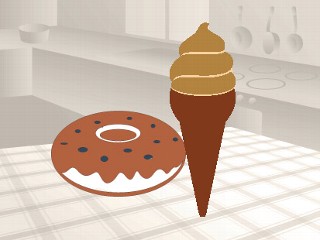 From the kitchen of Wolfgang Puck
Try Wolfgang's recipe for Mini Strawberry Swirl Cheesecakes. They're a great way to end any meal.
Note: If you don't have individual ramekins, these small cheesecakes can be made in regular-sized muffin pans. When baked, run knife around inside edge of each muffin cup and then invert onto a large baking tray. With a wide spatula, lift each cake to a serving plate, spooning the Strawberry Compote around.
Ingredients
Equipment
12 ramekins (1 cup each), or 1 regular-size muffin pan
Baking pan with sides large enough to hold ramekins
3/4 cup Strawberry Compote (recipe below)
1 recipe Spago Cheesecake, filling only (recipe below)
Strawberries (or blueberries), for placement on mini cheesecakes
Spago Cheesecake Filling
1 1/2 pounds cream cheese, room temperature, cut into small pieces
1 1/4 cup granulated sugar
1/4 teaspoon salt
3/4 cup sour cream
1 tablespoon dark rum
1 tablespoon lemon juice
2 teaspoon vanilla extract
3 eggs
Strawberry Compote
3 baskets strawberries (3 pints), hulled and cut into thick slices
3/4 cup granulated sugar
1 1/2 cinnamon sticks
Cooking Directions
Spago Cheesecake Filling
Place the crwam cheese, sugar and salt in the lare bowl of an electric mixer. Using the paddle or beaters, on medium speed, beat until smooth, stopping occasionally to scrape down the sides and unded the beaters with a rubber spatula. Turn the speed to high and continue to beat until rice and creamy. Stop the machine, add the sour cream, rum, lemon juice, and vanilla, then on medium speed, continue beating until well blended. Add eggs and beat just until combined.
Strawberry Compote
In a medium noncreative saucepan, combine berries, sugar, and cinnamon sticks. Cook over medium-high heat until compote thickens slightly and just coats the back of a spoon, about 15 minutes. Cool. Recipe makes 12 individual cheesecakes.
Strawberry Swirl Cheesecake
Position rack in Center of oven and preheat oven to 350 degrees. Coat with vegetable spray each fo twelve 1 cup ramekins. Set aside.
Spoon about 1 tablespoon Strawberry Compote into the bottom of each ramekin, then fill with the Spago Cheesecake Batter (scant 1 cup). Arrange the ramekins in a large baking pan with sides and fill the baking pan with hot water, reaching about halfway up the sides of the ramekins. Bake until the cheesecakes begin to pull away form the sides of the ramekin and are almost firm to the touch, 35 to 40 minutes.
Remove ramekins to rack and let cool. Refrigerate covered, overnight.
When ready to serve, run a sharp knife around the inside edges of each ramekin and invert the cake onto a serving plate. The compote will run down the sides of each cake. Garnish with slices of fresh strawberries or a few blueberries around the cake. Serve Immediately.
Recipes courtesy of Wolfgang Puck © 2003
Recipe Summary
Main Ingredients: strawberries, cinnamon, cream cheese, dark rum
Course: Dessert