Low-Calorie Boston Cream Torte
Drop the Calories, Not the Flavor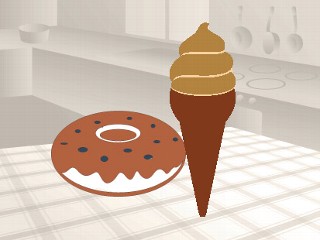 From the kitchen of Joanne Rusch
|
Joanne Rusch's lost 40 pounds after being a part of Good Morning America's last "Lock the Door, Lose the Weight," project. Try one of her favorite recipes — Reduced-Calorie Boston Cream Torte
Ingredients
1 Entenmann's Fat Free Pound Cake
1 package Sugar Free Jell-O Vanilla Instant Pudding (1 oz. - make sure to choose smaller box)
1 1/4 cups skim milk
1/4 cup Betty Crocker whipped chocolate frosting
Cooking Directions
Make Vanilla pudding and chill for at least 1/2 hour. Line a small loaf pan lengthwise and width wise with long pieces of saran wrap. Put pound cake on its side and slice it lengthwise in half, and then in lengthwise halves again to make 4 even long pieces.
Lay one layer into the pan. Stir pudding and spread 1/3 over the cake. Repeat twice more. Gently frost the top cake layer. Chill for at least an hour before serving. Refrigerate leftovers.
Calories per slice: 170
*Calorie Buster: If you substitute the frosting with a thin layer of sugar free chocolate pudding and the pound cake with a sugar free angel food cake, you'll shave about 630 calories more off the total reduced count, bringing the calories per slice down to 91.
Recipe provided by Joanne Rusch, (www.scaleitdown.com) a former Lock the Door, Lose the Weight participant.
Other Recipes That You Might Like