Crispy Zucchini Sticks with Olive Dip
Party Pleasers for the New Year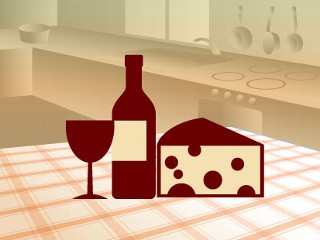 From the kitchen of Sara Moulton
|
Just in time for your New Year's party, Good Morning America's Food Editor Sara Moulton joined the show with some super easy and terrific tasting hors d'oeuvres ideas. Try her recipe for Crispy Zucchini Sticks with Olive Dip.
Ingredients
1 1/2 cups all-purpose flour
1 cup beer
1 cup mayonnaise
1/2 cup Kalamata olives, pitted
1 tablespoon fresh lemon juice
2 medium zucchini
Vegetable oil, for deep frying
Kosher salt and freshly ground black pepper, to taste
Cooking Directions
Whisk 1 cup of the flour with the beer in a large bowl until smooth. Pour through a strainer into another bowl and let stand for 1 hour. Thin with additional beer just before frying if thicker than pancake batter.
Meanwhile, mix the mayonnaise with the olives and lemon juice in a small bowl. Thin and 1 to 2 tablespoons water, if you like. Keep covered in the refrigerator until ready to serve the zucchini.
Cut the zucchini into sticks that measure 1/4 inch wide and two inches long. Heat two inches of oil in a large deep saucepan until a deep-fat frying thermometer reaches 35 degrees F. 5. Combine the remaining 1/2 cup flour with salt and pepper in a shallow bowl or pie plate. Add the zucchini and toss to cover in flour.
Transfer to a strainer and shake to remove excess flour. Working in batches, dip in the batter, letting the excess drip off.
Fry in batches until golden brown and crisp, about 3 minutes. Drain on paper towels and sprinkle with salt. Serve the olive mayonnaise on the side for dipping.
Recipe used with permission and excerpted from "Sara Moulton Cooks at Home" by Sara Moulton.
Other Recipes That You Might Like