"Gourmet" Chocolate Toffee Diamonds
Gourmet Magazine's Favorite Holiday Cookie Recipes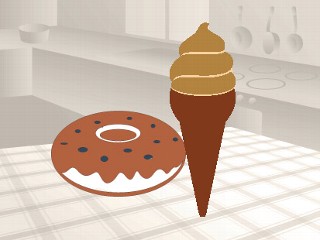 From the kitchen of Gourmet Magazine
|
It's time to fire up the oven for holiday cookies this year, and the editors of Gourmet magazine have shared their favorite recipes from spicy to nutty to chocolaty with Good Morning America's Food Editor Sara Moulton.
Here is the recipe for Chocolate Toffee Diamonds.
Ingredients
2 sticks unsalted butter (1 cup), softened
1 cup packed brown sugar
1 large egg yolk
2 teaspoons vanilla
2 cups all-purpose flour
1/2 teaspoon salt
12 oz fine-quality bittersweet chocolate (not unsweetened), finely chopped
1 1/4 cups walnuts (5 oz), toasted and coarsely chopped
1 metal offset spatula (optional)
Cooking Directions
Preheat oven to 350°F.
Beat together butter and brown sugar in a large bowl with an electric mixer at medium-high speed until pale and fluffy, about 3 minutes in a standing
mixer (preferable fitted with paddle attachment) or 6 minutes with a handheld. Beat in yolk and vanilla, then add flour and salt and mix at low speed until just combined.
Spread batter evenly with offset spatula in a greased 15 1/2- by 10 1/2- by 1-inch baking pan and bake in middle of oven until top puffs slightly and is firm to the touch and edges pull away from sides of pan, 20 to 25 minutes (watch carefully toward end of baking; cookie base can burn easily).
While cookie base is baking, melt chocolate in a double boiler or a metal bowl set over a sauce pan of barely simmering water, stirring occasionally, until smooth, then remove top of double boiler or bowl from heat.
Spread chocolate over warm cookie base and immediately sprinkle with walnuts. Cool completely in pan on a rack, then cut into 2-inch diamonds or squares. Chill in pan until chocolate is firm, about 15 minutes.
Cooks' note: Cookies keep, layered between sheets of wax paper, chilled in an airtight container 2 weeks.
Other Recipes That You Might Like