Nigella's Chocolate Cloud Cake
Nigella Lawson's Dessert Recipes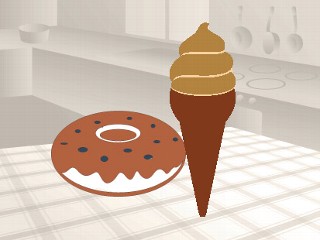 From the kitchen of Nigella Lawson
|
Nigella Lawson is lighting more than a few fires in kitchens these days, and we're not talking about the stove.
The sizzlingly attractive chef who hosts the popular Style Network show, Nigella Bites, shared some holiday goodies on Good Morning America, as part of a new series called Perfect Party Pleasers. Here is her recipe for Chocolate Cloud Cake.
Ingredients
Chocolate Cloud Cake
9 ounces bittersweet chocolate (minimum 70 percent cocoa solids)
1/2 cup unsalted butter, softened
6 eggs, 2 whole, 4 separated
1/2 cup plus 1 Tablespoon sugar
2 Tablespoons Cointreau (optional)
grated zest of 1 orange (optional)
Springform cake pan (9-inch)
Cream topping
2 cups heavy cream
1 teaspoon vanilla extract
1 tablespoon Cointreau (optional)
1/2 teaspoon unsweetened cocoa powder, for sprinkling
Cooking Directions
Preheat the oven to 350°F.
Line the bottom of the cake pan with baking parchment. Melt the chocolate either in a double boiler or a microwave, and then let the butter melt in the warm chocolate.
Beat the 2 whole eggs and 4 egg yolks with 1/3 cup of the sugar, then gently add the chocolate mixture, the Cointreau and the orange zest.
In another bowl, whisk the 4 egg whites until foamy, then gradually add the remaining sugar and whisk until the whites hold their shape but are not too stiff. Lighten the chocolate mixture with a dollop of egg whites, and then fold in the rest of the whites. Pour into the prepared pan and bake for 35-40 minutes or until the cake is risen and cracked and the center is no longer wobbly.
Cook the cake in its pan on a wire rack; the middle will sink as it cools.
When you are ready to eat, place the still pan-bound cake on a cake stand or plate for serving and carefully remove the cake from its pan. Don't worry about cracks or rough edges: it's the crater look we're going for here.
Whip the cream until it's soft and then add the vanilla and Cointreau and continue whisking until the cream is firm but not stiff. Fill the crater of the cake with the whipped cream, easing it out gently toward the edges of the cake, and dust the top lightly with cocoa powder pushed through a tea strainer.
All recipes used with permission, excerpted from Nigella Bites, by Nigella Lawson, Hyperion, Copyright 2002.
Other Recipes That You Might Like