Olives Restaurant's "The Elvis" Hot Chocolate
A Hunk of Burning Love in a Mug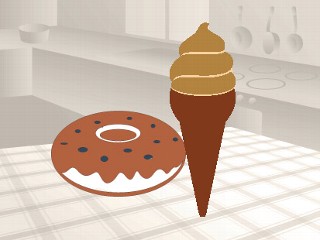 From the kitchen of Olives Restaurant
|
New York City's leading chefs have shared a few of their best hot chocolate recipes with "Good Morning America," using every ingredient from chili peppers to banana peels.
"The Elvis" Hot Chocolate from Olives Restaurant is a peanut butter and banana hot chocolate with grape marshmallows.
Ingredients
Hot Chocolate
2 cups milk
6 tablespoons creamy peanut butter
2 ripe bananas, chopped fine
4 oz. bittersweet chocolate
Grape Marshmallows
1/3 Cup plus 1 tablespoon Concord grape juice
4 teaspoons gelatin powder (unflavored)
1 cup confectioners sugar
1 cup cornstarch
1/3 cup water
1 cup plus 1 tablespoon sugar
1 tablespoon light corn syrup
1 large egg white (each)
Cooking Directions
Hot Chocolate
Place the chocolate, bananas and peanut butter in a heat-proof container.
Bring your milk to a boil and pour over your ingredients.
Let sit a few seconds, then using a hand-held immersion blender, blend ingredients until smooth; serve immediately.
To take it to the next level, finish with grape-flavored marshmallows.
Grape Marshmallows
Combine juice and gelatin in a bowl and let bloom. Mix confectioners sugar and starch and set aside.
Combine water, sugar and corn syrup in a sauce pot, and cook until 121 degrees C on a candy thermometer. Meanwhile, use the whisk attachment on a mixer at a medium setting to beat egg white until frothy.
When the sugar reaches the right temperature, slowly add it to the egg white, and then add gelatin mixture. Beat on high for 15 minutes until thick and coat a cake pan with the starch mixture.
Pour the finished marshmallow in the pan top with the rest of the starch and let set up in the refrigerator.
Other Recipes That You Might Like