'Miang Khum' Shrimp Wrapped in Leaves
Su-Mei Yu Makes Asian Cuisine Easy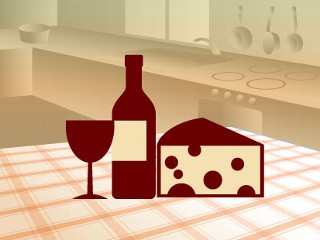 From the kitchen of Su-Mei Yu
|
As Good Morning America launches a continuing series on easy-to-prepare party dishes, we called on Su-Mei Yu, author of two books on Asian cooking, for some recipe ideas.
Miang Khum (Savory Bites)
A lot of people are intimidated by Asian cooking, but Su-Mei Yu says there is no need to be.
"It's not that hard anymore, because you can buy all the ingredients in most places," she said. "Don't be intimidated. Go with the flow and think Asian. You can find all these ingredients in any supermarket."
Here is her recipe for a simple, popular Thai dish called Miang Khum, which means Savory Bites. It is basically shrimp wrapped in leaves.
Ingredients
Two Cups of Sauce
1 Tablespoon small dried shrimp
1 cup boiling water
1 piece fresh ginger (1-inch)
1/2 teaspoon vegetable oil
1 teaspoon fermented shrimp paste (or 1 Tablespoon red miso)
1 square fresh banana leaf (12-inch Or 3 fresh corn husks, or 3 dried corn husks, soaked in warm water until softened)
1 stalk lemongrass, green parts and hard outer layers removed, minced
5 shallots, minced
2 tablespoons fish sauce (namm pla)
1/2 cup palm sugar (or packed light brown sugar)
1/2 cup Roasted Fresh Grated Coconut Flakes
Condiments
1/4 cup small dried shrimp
1/2 cup unsalted peanuts, dry-roasted
2 shallots, cut into 1/4-inch dice
ginger, peeled and cut into 1/4-inch dice (or regular ginger peeled, rubbed with a couple of pinches of sea salt, allowed to sit, then rinsed and dried well)
1 lime, unpeeled, cut into 1/4-inch dice and seeds removed
3/4 cup Roasted Fresh Coconut Matchsticks
4 to 5 fresh bird chiles (or 2 to 3 serrano chiles), cut into tiny chunks (with seeds, for a spicy dish)
Wraps
36 fresh mustard green leaves, stems trimmed (or 15 to 20 cabbage leaves - if using cabbage, cut 36 3-inch circles from the leaves, using a sharp biscuit cutter or a paring knife and a template)
Cooking Directions
For the sauce: In a small mixing bowl, combine the dried shrimp with the boiling water. Let sit until the water cools. Drain and pat dry with paper towels. Pound the softened shrimp in a mortar until it is the consistency of coarse cornmeal. Transfer to a small bowl and set aside.
Preheat the oven to 400 degrees. Rub the ginger with the vegetable oil and wrap in aluminum foil. Wrap the shrimp paste or miso in the banana leaf, folding it over several times (or stack the cornhusks and wrap in them). Roast the ginger and the banana leaf bundle for 20 minutes. Cool completely. Peel and mince the ginger. Pound the ginger in the mortar until pureed. Add the lemon grass and pound to a paste. Scrape down the sides of the mortar with a spoon, add the shallots, and pound and blend. Add the softened dried shrimp and pound and blend well. Add the cooled roasted shrimp paste and pound and blend well.
Transfer the mixture to a small saucepan. Add the fish sauce and palm sugar. Set over high heat and cook, stirring constantly with a wooden spoon, until the sugar is dissolved and the sauce is slightly thickened, one to two minutes. The sauce should be the consistency of honey. Add the roasted coconut flakes, stirring to combine. Transfer to a small bowl to cool.
To serve miang khum, put each condiment in a separate sauce bowl. Place the bowl of sauce and the bowl of chiles, together with serving spoons, in the center of a large platter. Arrange the mustard greens around them. Place one or two pieces of dried shrimp, roasted peanuts, shallots, ginger and lime in the center of each leaf. Add a pinch of coconut matchsticks over them.
Have each guest carefully pick up a leaf and fold it into a pouch, top with fresh chiles or leave them out, depending on preference, and spoon a dollop of the sauce over it, then fold the leaf over the ingredients into a bundle and enjoy.
Recipes courtesy of Cracking the Coconut by Su-Mei Yu © 2000
Other Recipes That You Might Like