Grilled Lemongrass Chicken Salad
Su-Mei Yu Makes Asian Cuisine Easy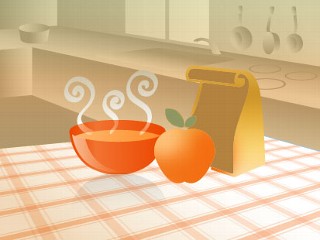 From the kitchen of Su-Mei Yu
As Good Morning America launches a continuing series on easy-to-prepare party dishes, we called on Su-Mei Yu, author of two books on Asian cooking, for some recipe ideas.
A lot of people are intimidated by Asian cooking, but Su-Mei Yu says there is no need to be.
"It's not that hard anymore, because you can buy all the ingredients in most places," she said. "Don't be intimidated. Go with the flow and think Asian. You can find all these ingredients in any supermarket."
Here is her recipe for a simple, popular dish, Grilled Lemongrass Chicken Salad.
Ingredients
Dressing
1 Tablespoon crushed red pepper
3 Tablespoons fish sauce (namm pla)
1/4 cup sugar
2 Tablespoons fresh lime juice
1/4 cup fresh orange juice
Salad
2 stalks lemongrass, tough outer layers and white parts remove use only the tender green midsections
2 heads of endive
1/4 cup sesame seeds
7 garlic cloves
1 bamboo skewer, soaked in water for 30 minutes, then dried
1 pound boneless, skinless chicken breasts
1/2 teaspoon sea salt
Vegetable oil spray
1 orange, peeled and sectioned, membranes removed
Cooking Directions
Combine all the dressing ingredients in a bowl. Set aside.
Heat the grill. While waiting for the grill to get hot, slice the lemongrass on the diagonal into paper-thin slices. Separate into individual rings and put in a mixing bowl. Thinly slice the endive crosswise. Add to the bowl and set aside. Put the sesame seeds in a small skillet and dry-roast over medium-high heat, sliding the skillet back and forth over the burner to prevent burning, until the seeds turn golden, one to two minutes. Remove from heat and transfer in a bowl to cool. Set aside.
Thread the garlic cloves onto the bamboo skewer, spray with vegetable oil, and place on the grill over medium-high heat. Rub the chicken breasts with the salt and spray generously with vegetable oil; put on the grill. Grill, turning frequently to prevent burning, until the garlic is slightly charred, about four minutes. When the chicken is pierced with a fork, the juices should run clear, about nine minutes. Transfer to a plate.
When it is cool enough to handle, remove the garlic from the skewer, slice the cloves in half, and add to the bowl with the lemongrass. Slice the chicken diagonally into long thin strips. Add to the bowl.
Add the orange slices and sesame seeds, then add the dressing, toss lightly, and transfer to a serving platter.
Recipes courtesy of Cracking the Coconut by Su-Mei Yu © 2000
Recipe Summary
Main Ingredients: lemongrass, endives, cloves
Course: Appetizer/Starter, Brunch, Dressing, Lunch, Salad