Emeril's Baked Alaska
An Irresistible Classic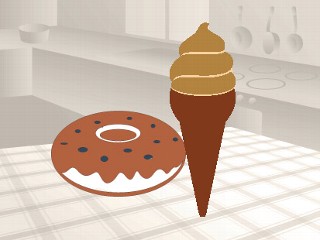 From the kitchen of Emeril Lagasse
Good Morning America visited the beautiful and mysterious state of Alaska Wednesday. Here's a great recipe to remind you of the amazing places we visited along the way.
Ingredients
1 sheet cake of vanilla sponge cake (9x13)
1 pint chocolate chip ice cream
1 pint coffee ice cream
1 pint praline ice cream
4 egg whites
2 tablespoons sugar
1/2 of a clean egg shell
1/4 cup Armagnac (A type of brandy)
Cooking Directions
Cut the sheet cake into fourths. Spread the chocolate chip ice cream evenly on one layer of the sponge cake. Top the chocolate chip ice cream with the second piece of sponge cake. Spread the coffee ice cream evenly on top of the sponge cake. Lay the third piece of sponge cake directly on top and spread the praline ice cream on top. Cover with the final piece of sponge cake on top of the praline ice cream.
Wrap the cake tightly with plastic wrap and place in the freezer. Freeze the cake until firm, about 2 hours. Using an electric mixer, with a whip attachment, whip the egg whites until soft peaks form. Add the sugar and whip to stiff peaks.
Remove the cake from the freezer. Cut a small hole in the center of the cake about 2 inches deep and 2 inches wide. Fill the egg shell with Armagnac. Place the shell in the cake hole.
With a rubber spatula, spread the egg whites evenly over the entire cake, except for the shell. With a small blow torch, torch the cake until golden brown. Slice the cake and serve with a drizzle of chocolate sauce.
Raw Egg Warning: The American Egg Board states: "There have been warnings against consuming raw or lightly cooked eggs on the grounds that the egg may be contaminated with Salmonella, a bacteria responsible for a type of food poisoning. Healthy people need to remember that there is a very small risk and treat eggs and other raw animal foods accordingly. Use only properly refrigerated, clean, sound-shelled, fresh, grade AA or A eggs. Avoid mixing yolks and whites with the shell."
Recipe courtesy of Emeril Lagasse, copyright © 2002.
Recipe Summary
Main Ingredients: sponge cake, ice cream, armagnac
Course: Dessert