Turkey BLT Wrap
Delicious Sandwiches Without the Guilt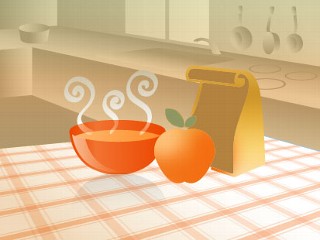 From the kitchen of Men's Health Magazine
Sandwiches like the Reuben, the Dagwood and the Philly cheesesteak are staples of a guy diet. After all, what goes better with a cold beer and the baseball game?
But these machismo-laden meals don't come cheap. Consider those sandwich favorites to be are pit stops on the road to a beer belly, or worse, obesity.
Even single-decker sandwiches can pack as much as 25 grams of fat, accounting for 50 percent of their total calories. It's not the cold cuts that make a sandwich fatty. It's the cheeses, sauces, and bacon strips that often get added to these lean meats.
As Good Morning America continues its Summer Weight Loss Challenge, through a partnership with Men's Health magazine, we took a look at how to make classic sandwiches healthy by adding flavorful, and healthy, ingredients.
Turkey BLT Wrap
Ingredients
1 Tbsp. fat-free mayonnaise
1 flour tortilla
3 slices turkey bacon, cooked
3 ounces roast turkey breast, diced
2 slices tomato
2 leaves lettuce
Cooking Directions
Smear the mayonnaise on the tortilla
Line the middle of the tortilla with the bacon and top with the turkey breast, tomato, and lettuce.
Roll the whole thing tightly into a tube.
Per wrap: 275 Calories, 21 grams protein, 28 grams carbohydrates, 9 grams total fat, 1 gram fiber.
Recipe Summary
Main Ingredients: tortillas, turkey bacon, turkey
Course: Lunch
More Info: Low Fat