Sweet Onion Soup With Fried Cheese Tortellini
Emeril's Kicked Up Onion Soup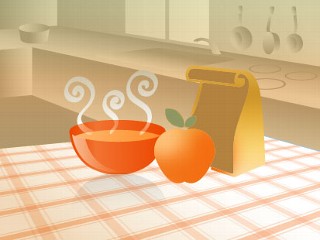 From the kitchen of Emeril Lagasse
|
Sweet onions, French bread, tortellini, and a delectable mixture of spices are combined in Emeril Lagasse's recipe for Sweet Onion Soup with Fried Cheese Tortellini.
Ingredients
1/4 cup olive oil
6 cups sweet onions, thinly sliced
2 teaspoons Emeril's Original Essence or Creole Seasoning (available in stores or make your own)
1 teaspoon salt, or more to taste
1/2 teaspoon freshly ground black pepper, or more to taste
2 bay leaves
0 garlic cloves
1 tablespoon fresh tarragon, chopped
1 tablespoon fresh oregano, chopped
1 tablespoon fresh basil
2 quarts chicken stock (or canned low-sodium chicken broth)
2 cups day-old French bread, crusts removed, diced
1-inch cubes
1/2 cup heavy cream
1/2 cup Parmigiano-Reggiano (freshly grated)
Vegetable oil, for deep frying
16 cheese tortellini, completely thawed if frozen
2 tablespoons fresh flat-leaf parsley, minced
Cooking Directions
Heat the olive oil in a large heavy pot over medium-high heat. Add the onions, 1 teaspoon of the Essence, the salt, pepper, and bay leaves. Cook, stirring, until the onions are just golden, 15 minutes. Add the garlic and stir for 1 minute. Add the tarragon, oregano, basil, and stock and bring to a boil. Reduce the heat to medium-low. Simmer, uncovered, for 30 minutes.
Add the bread and cream. Increase the heat to medium-high and cook, whisking often, until the bread dissolves and the soup is thickened, about 10 minutes. Remove and discard the bay leaves. Using an immersion blender, or in batches in a food processor or blender, puree the soup. Add the cheese and adjust the seasonings to taste. Cover and keep the soup warm over very low heat.
Pour enough oil into a deep heavy pot or electric deep fryer to come halfway up the sides and heat over medium-high heat to 360 degrees F. In batches, carefully add the tortellini to the hot oil and deep-fry, turning frequently with a long-hanled slotted spoon, until golden brown, 1-2 minutes. Remove with the slotted spoon and drain on paper towels. Season with the remaining 1 teaspoon of Essence.
Ladle the hot soup into bowls and garnish with the fried tortellini and parsley.
Recipe courtesy of Emeril Lagasse, from Prime Time Emeril, copyright 2001.
Other Recipes That You Might Like