Chocolate Macaroons
An Almond Cookie Filled With Silky Chocolate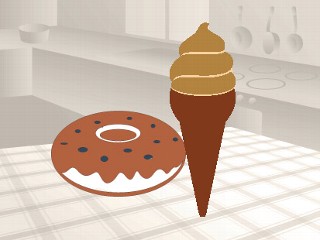 From the kitchen of Sara Moulton
Good Morning America food editor Sara Moulton shares her recipes for some tasty desserts. Bake up a batch of these scrumptious cookies!
Ingredients
Cookies
1 1/3 cups of whole blanched almonds (8 ounces)
3 1/2 cups confectioners sugar
1/3 cup unsweetened Dutch-process cocoa powder
6 egg whites (from six large eggs)
1 tablespoon of granulated sugar
pinch salt
Ganache Filling
1/2 cup of heavy cream
2 teaspoons whole milk
2 1/2 tablespoons of unsweetened cocoa powder
4 ounces chocolate (fine-quality bitter-sweet, not unsweetened), finely chopped
1/2 cup unsalted butter (1 stick), cut into 1/2 inch pieces
Cooking Directions
Macaroons
Preheat oven to 400 degrees F.
Pulse almonds with 2 cups confectioner's sugar in a food processor until finely ground (almost to a powder) Add cocoa and remaining 1 1/2 cups of confectioner's sugar and pulse until combined
Beat egg whites with a pinch of salt in a large bowl with an electric mixer at moderately high speed until they hold soft peaks. Fold in almond mixture in 3 batches gently, but thoroughly (batter will be very soft).
Transfer batter to pastry bag and pipe small (1 inch diameter) mounds about 2 inches apart onto parchment-lined baking sheets. Bake macaroons in batches in the middle of the oven until the top are slightly cracked and appear dry, but are still slightly soft to the touch, about 8 to 10 minutes. Transfer macaroons on parchment to a dampened kitchen towel and cool 5 minutes. Peel from paper and completely cool on racks. Move onto making the filling.
Finish with Ganache Filling
Bring milk and cream to a total boil in a small, heavy saucepan over moderate heat. Whisk in cocoa, then remove from heat. Add chopped chocolate and butter, stirring until smooth. Cool filling, then chill, covered, until firm enough to hold its shape when spread, about 30 minutes.
Sandwich flat sides of macaroons together with 1/2 teaspoon of filling.
Recipe courtesy of Gourment magazine © 2001.
Recipe Summary
Main Ingredients: chocolate, butter, almonds, eggs, milk
Course: Cookies, Dessert