Emeril's Fish and Chips
A British Favorite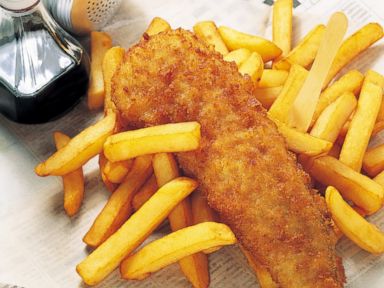 From the kitchen of Emeril Lagasse
|
Emeril Lagasse's version of a classic British dish — Fish & Chips.
Ingredients
2 Pounds Idaho potatoes, peeled and cut crosswise into 3/4-inch thick chips
4 cod or haddock fillets (about 6 ounces each), cut in half lengthwise
1 1/2 cups bleached all-purpose flour, sifted
1 tablespoon sugar
1/4 cup dark beer
2 large egg yolks, beaten
6 tablespoons milk
6 tablespoons water
salt and freshly ground black pepper, to taste
2 large eggs whites, beaten to stiff peaks
Vegetable oil, for deep frying
Malt vinegar
6 tablespoons fresh lemon juice
Cooking Directions
Soak the potatoes in cold water to cover for 30 minutes before frying. Season the fish on both sides with Essence.
In a mixing bowl, combine the flour and sugar. Add the beer, egg yolks, milk and water and whisk until smooth. Season with salt and pepper. Cover and let rest for 30 minutes. Fold in the egg whites.
Heat 6 inches of oil in a deep, heavy pot or an electric fryer to 360 degrees F. Dip the fillets in the batter, letting the excess drip off. Add the fish, several pieces at a time, and fry until golden brown, 4 to 6 minutes. Drain on paper towels. Season with Essence and keep warm.
Drain the potatoes and pat dry. Place them in a fry basket and fry in the hot oil for 3 minutes. Lift the basket out of the oil and drain over the fryer. Return the basket to the oil and fry until golden brown, another 3 to 5 minutes. Drain on paper towels. Season with salt and pepper.
Serve the fish & chips on newspaper and drizzle with the vinegar and fresh lemon juice. Pass the tartar sauce.
This recipe copyright © 1998 Emeril's TV Dinners.
Other Recipes That You Might Like