Red Devil Eggs
Rocco's Take on a Picnic Staple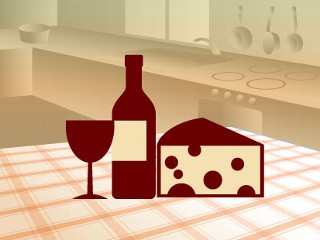 From the kitchen of Rocco DiSpirito
|
Rocco's Red Devil Eggs aren't your typical picnic fare. Try them at your next family outing and expect oohs and ahhs.
Ingredients
1 dozen large eggs
1 teaspoon vinegar
1/3 cup prepared mayonnaise
1 1/2 teaspoons turmeric powder
1 and 1/2 teaspoons curry powder
juice of 1 lemon
1/3 cup roasted red pepper, finely chopped
1 tablespoon ground paprika
24 cilantro leaves
1 fresh banana leaf
Cooking Directions
Put the eggs in a large stockpot and cover by at least 4 inches of water. Add the vinegar. Bring to a boil over medium-high heat and immediately turn off the heat. Cover and let sit for 17 minutes.
Drain the eggs and rinse under cool water. Peel and halve the eggs and lay the egg whites on a sheet tray lined with parchment paper.
Transfer the yolks to the bowl of a food processor and add the mayonnaise, turmeric powder, curry powder, and lemon juice. Process until smooth.
Fold the finely chopped roasted red pepper into the mixture and season to taste with salt.
Transfer the blended yolks to a pastry bag fitted with a fluted tip.
Decoratively pipe the yolks into the whites and garnish each with a 1/4 teaspoon of paprika and a cilantro leaf. Serve on a tray lined with the banana leaf.
Recipe courtesy of Rocco DiSpirito © 2001
Other Recipes That You Might Like