My, My Miss American Pie
Celia Rossi, Apple Pie Contest Finalist 2001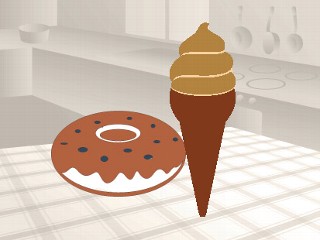 From the kitchen of Celia Rossi
This red, white and blue version of the all-American classic was submitted by Celia Rossi and her seven daughters: Karla, Pam, Tina, Lisa, Therese, Patty, and Tanya.
Ingredients
Pastry Crust (Makes two 9-inch deep dish pie crusts)
3 cups all-purpose flour
1 1/3 cups shortening
1 tsp. salt
1 large egg
1 tsp. white vinegar
5 Tbsps. whole milk
Filling
8 or 9 Granny Smith apples, peeled, cored and sliced into eighths
1/2 cup dried sweetened cranberries
1 pint fresh blueberries
3/4 cup sugar
1/4 cup all-purpose flour
1 1/2 tsps. grated lemon zest
2 tsps. fresh lemon juice
Dash of salt
3 Tbsps. butter, in small pieces.
Cooking Directions
Crust
With pastry blender, combine flour, shortening, and salt until mixture resembles coarse meal.
In small bowl, mix egg, vinegar, and milk (it's OK if this separates a bit). Add to flour mixture, mixing only until dough holds together in a ball.
Refrigerate for 1 hour or more.
Roll out on floured waxed paper or pastry cloth. Turn onto lightly greased pie plate; trim to a 1" overhang. Prepare second round and set aside in refrigerator.
Preheat oven to 400 degrees F.
Filling
In a large bowl, combine apples, sugar, flour, lemon zest, and dash of salt; pour half of the mixture into the unbaked pastry-lined pie pan; sprinkle with half the cranberries and blueberries; repeat.
Drizzle with lemon juice; dot with butter.
Cut out several small apple shapes from the other pastry round* place round on top, seal and flute edges with bottom crust.
*NOTE: Several small slits can be cut in the top crust instead of small apple shapes. Or, apple shaped cutouts can be placed on crust for decoration before placing in the oven.
Place foil around edge; place in oven and immediately reduce heat to 375 degrees F.
Bake for 20 minutes; remove foil and bake another 20 to 25 minutes, or until crust is brown and pie juices begin to bubble from the openings in the crust. Cool for 45 minutes to one hour at room temperature before serving. Top with a small U.S. flag pick.
Celia Rossi and her 7 Daughters, Emeril Lagasse's Apple Pie Contest 2001
Recipe Summary
Main Ingredients: granny smith apples, blueberries, cranberries
Course: Dessert