Emeril's Blueberry Peach Cobbler
Sweet Summer Desserts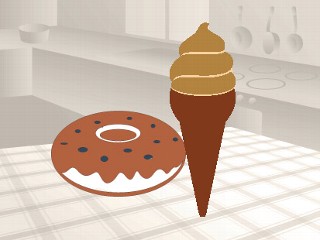 From the kitchen of Emeril Lagasse
A slight twist on the straight berry, or mixed berry desert this summer. Emeril Lagasse whips up a very simple cobbler that beautifully combines the flavors and colors of two fruits you might not think of pairing together — peaches and blueberries.
Ingredients
2 lbs peaches (apx 6-8 peaches)
1/4 c. light brown sugar
1 tsp salt
1 tsp. ground cinnamon
1/4 tsp grated nutmeg
2 c. blueberries
2 tbsp butter
1/2 c. sugar and a separate 1/4 c. sugar
1 egg
1/2 c. milk
1 c. flour
1 tbsp baking powder
1 tbsp vanilla extract
Cooking Directions
Start with the blueberries. Combine 2 cups fresh blueberries, 1/2 cup sugar and 2 tbsp butter in a small saucepan over medium heat. Cook, stirring until a syrup forms for 6 to 7 minutes. Remove from heat and let cool.
Now, the 2 lbs of fresh peaches — pit and peel them, then chop the 2 lbs of fresh peaches (enough to make 3 1/2 cups) you can leave the skin on if you prefer. Toss peaches in a large mixing bowl with 1/4 cup packed light brown sugar, 1/4 tsp grated nutmeg, 1 tsp ground cinnamon and 1 tsp salt. Let sit for a few minutes to absorb flavor.
For the cobbler topping: In another large mixing bowl, mix 1/4 cup sugar and 1 egg in a bowl and whisk. Add 1 tbsp baking powder, 1 cup flour, 1 tbsp vanilla extract, and 1/2 cup milk. Beat well with a wire whisk until the mixture is smooth and resembles a cake batter.
To layer use a 3 quart rectangular casserole dish, spread the peach mixture evenly across the bottom. Spoon the blueberry mixture evenly over the peaches. Then pour the batter evenly over the blueberries.
Bake in a 375 degree oven, bake cobbler for 30 to 35 minutes, or until golden brown. Cool for 10 minutes, in order for flavors to meld before serving. Serve warm with ice cream and fresh mint.
Recipe courtesy of Emeril Lagasse © 2001.
Recipe Summary
Main Ingredients: peaches, brown sugar, blueberries
Course: Dessert