Emeril's Chicken and Wild Rice Salad
Emeril Lagasse's Chicken and Wild Rice Salad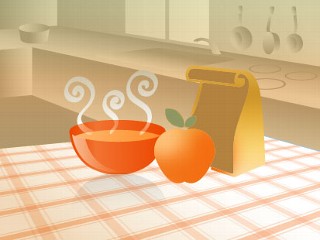 From the kitchen of Emeril Lagasse
Grab your dried apricots and ginger root. Emeril Lagasse uses fruits and nuts to give extra flavor to his chicken and wild rice salad recipe.
Ingredients
1 whole chicken breast (12 ounces - skinless and boneless)
1 cup chicken broth
1 tablespoon honey
1 tablespoon fresh ginger root, minced
3/4 cup wild rice
1 1/2 cups chicken broth (see directions)
2 tablespoons cider vinegar
2 tablespoons honey
4 tablespoons olive oil
2 tsp fresh ginger root, minced
1/8 teaspoon salt
1/8 teaspoon pepper
1/4 cup red onion, finely diced
1/4 cup scallion, thinly sliced
1/2 cup carrot, finely diced
1/3 cup hazelnuts, toasted and roughly chopped
1/3 cup pine nuts, toasted
1/4 cup golden raisins
1/2 cup dried apricots, quartered
1/4 cup dried cranberries
4 cups mesclun salad, washed and loosely packed
Cooking Directions
Place chicken breast in a 7- to 8-inch skillet, add 1 cup chicken broth, honey and ginger, and bring quickly to a boil. Reduce heat and simmer 7 to 10 minutes on each side, turning every few minutes until chicken is thoroughly cooked but not overcooked. Remove chicken from pan and let cool. Reserve liquid.
Place reserve liquid in a medium saucepan. Add 1 1/2 cups chicken broth and bring to a boil. Add wild rice and simmer covered for 30 to 40 minutes, until rice is tender. Place in a large bowl and let cool for 20 minutes.
Combine cider vinegar, honey, olive oil, ginger root, salt and pepper in a large mixing bowl. Add remaining ingredients and toss. Add cooled rice.
Slice chicken thinly and then cut slices into thirds, and add into rice mixture.
Place mesclun on a large platter and mound rice salad in the center.
Recipe courtesy of Emeril Lagasse © 2000.
Recipe Summary
Main Ingredients: chicken, honey, ginger, pine nuts
Course: Appetizer/Starter, Lunch, Salad