Wolfgang's Chino Chopped Salad
Wolfgang Puck's Oscar Dinner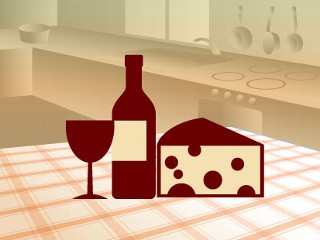 From the kitchen of Wolfgang Puck
|
A very special salad was served by Wolfgang during the 2001 post-Oscar Governor's Ball and you can serve it at your party too.
Ingredients
Mustard Vinaigrette
1 tablespoon Dijon mustard
3 tablespoons sherry wine vinegar
1/2 cup extra-virgin olive oil
1/2 cup almond oil (or safflower oil)
Salt
Freshly ground while pepper
Salad
1 tablespoon olive oil
1/2 cup fresh artichoke hearts, diced (see cooking tip)
Salt
Freshly ground white pepper
1/2 cup carrots, diced
1/2 cup green beans, diced
1/2 cup red onion, diced
1/2 cup radicchio, diced
1/2 cup fresh corn kernels
1/2 cup celery, diced
1/2 cup ripe avocado, diced
1/4 cup tomato, peeled, seeded, and chopped
4 teaspoons Parmesan cheese (grated)
1 cup mixed greens (curly endive, chicory, baby lettuce), cut or torn into bite-size pieces
Cooking Directions
Prepare the vinaigrette: In a small bowl, combine the mustard and vinegar. Slowly whisk in the oils. Season to taste with salt and pepper and set aside. Whisk again when ready to serve.
Prepare the salad: In a small skillet, heat the olive oil. Season the diced artichokes lightly with salt and pepper and sauté until al dente, about 3 minutes. Transfer to a large bowl and let cool.
Blanch the carrots and beans by placing in a wire sieve. Set the sieve into a large pot of boiling salted water and cook until al dente, 2 to 3 minutes. Plunge into cold water to stop the cooking process. Drain, cool, and add to the artichokes. Add the onion, radicchio, corn, and celery.
When ready to serve, dice the avocado and the tomato and add to the other vegetables with the vinaigrette, sprinkle with the grated cheese, and toss again. Correct seasoning to taste.
Toss the greens with the reserved vinaigrette and season with salt and pepper to taste.
Divide the salad greens among 4 salad plates. Mound the chopped salad on the greens and serve immediately.
Recipe courtesy of Wolfgang Puck © 2001
Other Recipes That You Might Like