Emeril's Crab Cakes
Emeril Lagasse's Crab Cakes with Roasted Corn and Tomato Salad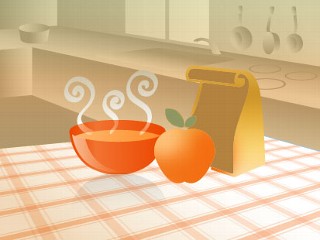 From the kitchen of Emeril Lagasse
Emeril Lagasse loves making his classic crab cakes with a roasted corn and tomato salad. You'll love eating them even more.
The tomato season is at its height and many different varieties are overflowing in markets during the summer. Corn is also widely available and very inexpensive.
Ingredients
2 tablespoons unsalted butter
1 cup yellow onions, finely chopped
1/2 cup celery, finely chopped
1/4 cup yellow bell pepper, seeded and finely chopped
Salt
Cayenne
1 tablespoon garlic, chopped
1 pound lump crab meat, picked over for shells and cartilage
1/4 cup green onions, green parts only, chopped
1/4 cup Parmigiano-Reggiano cheese (grated)
2 tablespoons parsley leaves, finely chopped
1/4 cup mayonnaise
1 1/2 cups fine bread crumbs, dried
1 cup vegetable oil
1/4 cup bleached all-purpose flour
3 tablespoons Emeril?s Essence (available in stores or make your own)
1 large egg
1 tablespoon water
2 large Idaho potatoes, peeled and cut into shoestrings
Horseradish Sauce for dipping (optional *)
1 recipe Roasted Corn and Tomato Salad (below)
Tomato Salad
1 cup roasted sweet corn
1/2 pint red tear drop tomatoes, stemmed, washed and sliced in half
1/2 pint yellow tear drop tomatoes, stemmed, washed and sliced in half
1/2 cup red onions, minced
1 teaspoon jalapeno peppers, minced
2 tablespoons fresh parsley leaves, chopped
1 tablespoon freshly squeezed lime juice
1 tablespoon freshly squeezed lemon juice
Salt
Freshly ground black pepper
Cooking Directions
For the salad, combine the corn, tomatoes, onions, jalepenos, parsley, lime juice and lemon juice. Mix well, season with salt and pepper. Serve cold or at room temperature.
Melt the butter in a small saute pan over medium heat. Add the onions, celery and bell peppers. Season with salt and cayenne. Cook, stirring, until the vegetables are soft and slightly golden, about 5 minutes. Add the garlic and cook, stirring for 2 minutes. Cool for 5 minutes.
In a large mixing bowl, combine the crab meat, green onions, cheese, parsley, mayonnaise, the cooled vegetables and 3/4 cups of the bread crumbs. Mix well. Divide the mixture into 10 equal portions and form them into 1-inch-thick cakes (patties). In a shallow bowl, combine the flour with 1 teaspoon of the Essence. In another bowl, whisk the egg with the water. In a third bowl, combine the remaining 3/4 cup bread crumbs and 1 teaspoon of the Emerils? essence.
Heat the remaining cup of 1 cup of oil to 360 degrees in a large saute pan over medium-high heat. Dredge the cakes first in the seasoned flour, tapping off any excess, then in the egg wash, letting the excess drip off. Dredge the cakes in the seasoned breadcrumbs, coating them evenly. Gently lay the cakes, 3 to 4 at a time, in the oil and fry until lightly golden, about 4 minutes on each side.
Preheat the fryer. Fry the potatoes in batches until golden brown, about 3 to 4 minutes, stirring occasionally for overall browning. Drain the cakes on paper towels. Season the cakes with the remaining teaspoon of Emeril?s essence seasoning.
Drain the potatoes on paper towels. Season with salt. Spoon the *horseradish sauce in the center of each plate. Lay the crab cakes in the center of the sauce. Spoon the corn and tomato salad over each cake. Pile the potatoes on top of the salad. Garnish with parsley.
Emeril Lagasse c. 2000
Recipe Summary
Main Ingredients: crab meat, bell pepper, parmigiano-reggiano cheese
Course: Appetizer/Starter, Brunch, Lunch