English Trifle with Poached Pears and Raspberries
Emeril Lagasse's Christmas Treat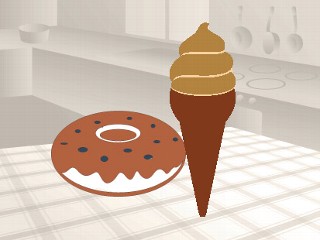 From the kitchen of Emeril Lagasse
Emeril's recipe makes one large trifle and it serves approximately 12 people.
Ingredients
Poached Pears
4 cups water
1 cup honey
1 vanilla bean, split lengthwise
4 Bosc or Bartlett pears (ripe but firm), peeled
Créme Anglaise
2 cups heavy cream
1 vanilla bean, split and scraped
6 egg yolks
1/2 cup sugar
Trifle
1 prepared pound cake (about 12-ounces)
3/4 cup Ruby Port (or Marsala wine)
4 cups fresh raspberries, thawed if frozen
2 cups heavy cream
1/4 cup sugar
3 ounces bittersweet chocolate shavings
Cooking Directions
Poached Pears
In a medium saucepan, bring the water, honey, seeds from the vanilla bean and vanilla bean to a boil until the honey dissolves.
Add the pear halves, reduce the heat, cover and simmer until the pears are tender when pierced with a sharp knife, about 12 - 15 minutes. Transfer the pears with a slotted spoon to a cutting board and cut into thin slices.
Créme Anglaise
In a small saucepan, bring the cream to a bare boil with the vanilla bean and seeds over medium heat. Cool slightly.
In a medium saucepan, blend the egg yolks and sugar with a whisk until it forms ribbons. Gradually add the warm cream, and mix well, stirring constantly over medium heat. Strain through a fine mesh strainer and keep warm, covered, until ready to use.
Trifle
Trim the crust from the cake and cut the cake into 1/2-inch thick slices to fit tightly into the bottom of a trifle bowl (or alternately, a 1 1/2 quart decorative glass bowl), and slightly up the sides about 1 inch. Drizzle the cake with some of the Port.
In a mixing bowl toss the berries with 2 tablespoons Port, stirring to crush the berries slightly. In separate bowl, whip the cream with the sugar.
Layer one-third of the pears over the top of the cake, then top with one-third of the Créme Anglaise, followed by one-third of the raspberries. Repeat the process with the remaining cake, Port, pears, custard, raspberries for two layers each, finishing with the whipped cream on top.
Decorate the top with chocolate shavings. Refrigerate the trifle for at least 4 hours, and up to 1 day for it to set up.
Recipe courtesy of Emeril Lagasse, © 2000
Recipe Summary
Main Ingredients: pears, vanilla, honey, raspberries
Course: Dessert