Chocolate Caramel Treasures
A Delicious Blend of Sticky and Sweet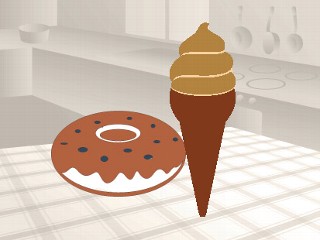 From the kitchen of Sue Morris
|
Sometimes there's nothing better than a nice and gooey chocolate dessert. Sue Morris shares her recipe for Chocolate Caramel Treasures, chewy and rich cookies, which were featured in Gourmet Magazine.
Ingredients
Cookies
1 stick unsalted butter, softened
2/3 cup sugar
1 large egg yolk
2 tablespoons whole milk
1 teaspoon vanilla
1 cup all-purpose flour
1/3 cup Dutch-process unsweetened cocoa powder
1/4 teaspoon salt
1 large egg white, lightly beaten
1/2 cup hazelnuts, finely chopped
Caramel Filling
10 plain caramels, unwrapped (1 - by 1/2 inch)
2 tablespoons heavy cream
Chocolate Drizzle
3 ounces fine-quality semisweet (or bittersweet chocolate, but not unsweetened), finely chopped
Cooking Directions
Beat together butter, sugar, yolk, milk, and vanilla with an electric mixer until blended well. Sift in flour, cocoa, and salt and beat on low speed until mixture forms a dough. Chill, wrapped in plastic wrap, until firm, at least 30 minutes.
Preheat oven to 350 F.
Roll scant tablespoons of dough into balls, then coat with egg white, letting excess drip off, and roll in nuts to coat. Arrange balls, as coated, 1 1/2 inches apart on greased baking sheets and press your thumb into center of balls to flatten, leaving a depression. Bake in batches in middle of oven until puffed slightly but centers are soft, 10 to 12 minutes. Remove from oven and immediately press centers of cookies again (we used handle end of a wooden spoon). Transfer to racks to cool.
Make filling while cookies cool, and one hour before serving make the chocolate drizzle.
Caramel Filling
Heat caramels and cream in a small saucepan over moderately low heat, stirring occasionally, until melted and mixture is smooth. Spoon into centers of cookies and cool completely.
Chocolate Drizzle
Melt chocolate in a double boiler or a metal bowl set over a pan of barely simmering water, stirring until smooth.
Cool to warm and pour into a heavy-duty sealable plastic bag. Seal bag and snip 1 corner to form a small hole. Drizzle chocolate over the cookies and let stand until set, about 30 minutes.
Makes about 2 and a half dozen.
Recipe copyright ©1999 Publsihed in Gourmet Magazine, recipe by Sue Morris of Oshawa, Ontario
Other Recipes That You Might Like