Sam's Apple Pie
Homemade Apple Pie is Easier Than You Think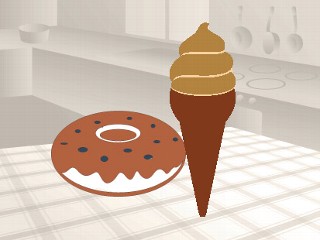 From the kitchen of the Editors of Saveur
|
Warm Apple Pie is the ultimate Fall treat. Sam's Apple Pie is one of the easiest and tastiest recipes you'll find for the delicious dessert.
Ingredients
Pastry
2 cups flour
1/2 teaspoon salt
2/3 cup vegetable shortening, chilled
Filling
3 lbs. baking apples, peeled and cored
1 cup sugar
Pinch nutmeg
2/3 tsp. cinnamon
Salt
4 tbsp. butter, cut into small pieces
1 egg, lightly beaten
Cooking Directions
For pastry, sift flour and salt together in a large bowl. Cut in shortening with a pastry cutter or two knives, until mixture resembles coarse meal. Make small depressions in the mixture with your finger and drizzle in up to 5 tbsp. ice water, 1 tbsp. at a time mixing until dough holds together. Form into a ball, wrap in plastic wrap, and refrigerate for 1 hour.
For filling, cut apples into wedges, 1/2" thick at the widest point. Mix sugar, nutmeg, cinnamon, and salt together in a large bowl. Add apples and mix well.
Preheat oven to 425 degrees. Divide dough into 2 balls. Roll out 1 dough ball into a 12" round on a floured surface, then ease into a 9" pie pan. Fill the pastry with apples and all their juices, and dot with butter. Roll out remaining dough into a 12" round, place on top of apples, then fold edge under and crimp or flute. Poke 4 or 5 holes in top crust with your finger to allow steam to escape during baking. Beat 1 tbsp. water into egg then brush top of pie with egg wash. Bake until crust is golden brown, about 45 minutes. Allow to cool slightly before serving.
Recipe copyright ©1998 Saveur Cooks Authentic American
Other Recipes That You Might Like