Ben Barker's Butternut Succotash with Hominy & Ham
A Hearty Fall Side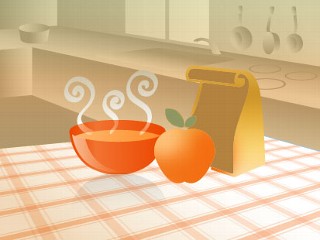 From the kitchen of Ben Barker
|
Succotash, borrowed from the Native Americans and popular during the Depression, gets a makeover from Ben Barker of Magnolia Grill.
Ingredients
3 ounces of country ham, cut into small dice
1/4 cup peanut oil (or canola oil or safflower oil)
1/2 cup onion, small dice
1/2 cup red bell pepper, small dice
1/2 cup celery, small dice
1 tablespoon garlic, minced
Pinch crushed red pepper flake
1 bay leaf
2 cups butternut squash, peeled and seeded, cut into medium dice (or acorn squash, or pumpkin)
2 cups baby lima beans, (fresh or frozen)
1 1/2 cups chicken stock, or more, as needed (or water)
1 1/2 cups white hominy, drained and rinsed
1 cup heavy cream
Salt and black pepper, to taste
1 1/2 teaspoon fresh thyme leaves
2 tablespoons parsley, chopped
1/2 cup dried bread crumbs (optional)
2 tablespoons melted butter (optional)
Cooking Directions
In a heavy-bottomed saucepan, heat oil over the medium heat, add country ham and cook until lightly browned. Add onion, pepper and celery; cook over medium heat until softened and beginning to caramelize. Add garlic, pepper and bay leaf; cook one minute.
Stir in lima beans and butternut squash; add chicken stock ( or water) just until fluid. Bring to a simmer and cook until butternut dice are just tender. Remove from heat and reserve.
While limas are cooking, combine hominy and cream in a small saucepan. Bring to a boil, reduce to a simmer and cook, stirring occasionally, until cream is reduced and thickened. Stir into limas, season liberally and stir in herbs. Transfer to an ovenproof casserole. (May be prepared ahead to this point.)
Preheat oven to 350. Combine breadcrumbs and melted butter in a bowl and sprinkle on top of succotash. Bake until bubbly and golden brown, about 25-30 minutes. Serve hot.
Recipe copyright ©1999 Ben Barker.
Other Recipes That You Might Like