Emeril's Banana Cream Pie
Emeril Lagasse's Most Requested Dessert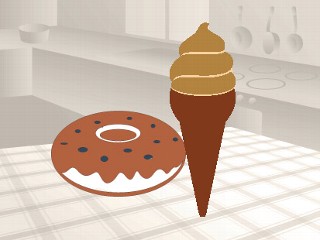 From the kitchen of Emeril Lagasse
Creamy, Cool and Comforting, Emeril Lagasse's Banana Cream Pie is a fan favorite. Your family will love it too.
Ingredients
5 large egg yolks
3/4 cup cornstarch
3 to 3 1/2 cups heavy cream
1 1/2 cups sugar
1 vanilla bean, split and scraped
3 cups graham cracker crumbs
1/2 ripe banana, mashed
1/4 pound unsalted butter (1 stick), melted
3 pounds of bananas, cut crosswise into 1/2-inch slices
3/4 cup caramel sauce
1 cup chocolate sauce
2 cups heavy cream, whipped to stiff peaks with the vanilla and sugar
1/2 teaspoon pure vanilla extract
2 teaspoons granulated sugar
chocolate, shaved
powdered sugar
Cooking Directions
In a mixing bowl, combine the egg yolks, cornstarch and 1 cup of the heavy cream. Whisk to blend well. Set aside.
Combine the remaining 2 cups cream, 1 1/2 cups of the sugar, and the vanilla bean in a large heavy-bottom saucepan over medium heat, Whisk to dissolve the sugar and bring to a gentle boil, about 10 minutes.
Slowly add the egg yolk mixture, whisking constantly until it thickens, about 5 minutes. Be forewarned: the mixture will break. Don't be alarmed. Pour it into a glass bowl. Press a piece of plastic wrap down over the surface of the mixture to prevent a skin from forming. Let cool completely at room temperature.
When cooled, remove the vanilla bean and pour the mixture into the bowl of an electric mixer fitted with a wire whip. Beat at medium-speed to combine the mixture. If it will not combine, warm another 1/2 cup heavy cream and slowly add it to the mixture. Whip until you have a thick and creamy custard.
Preheat the oven to 350 degrees F. In a mixing bowl, combine the graham cracker crumbs, the remaining sugar and the mashed banana. Mix thoroughly. Add the butter and mix well. Press the mixture into a 9-inch pie pan. Bake until browned, about 25 minutes. Remove the pan from the oven and cool, for about 10 minutes.
To assemble, spread about 1/2 cup of the custard on the bottom of the crust. Arrange about a third of the banana slices, crowding them close together, over the custard. Next, spread 1 cup of the custard over the bananas. Arrange another third of the banana slices close together over the custard. Top with 1 cup of the custard and the banana slices. Top with the remaining custard, covering the bananas completely to prevent them from turning brown. After this pie is assembled it will come about 2 to 3 inches above the pie tin; it is a very high pie. Cover with plastic wrap and chill for at least 4 hours.
Cut the pie into wedges and serve with a drizzle of caramel and chocolate sauce. Top with the whipped cream and shaved chocolate. Sprinkle with powdered sugar.
Recipes copyright ©1999 Emeril Lagasse's Creole Christmas Cookbook
Recipe Summary
Main Ingredients: bananas, heavy cream, graham crackers, caramel, chocolate
Course: Dessert