Emeril's Salmon In New Potatoes
Emeril Lagasse's Holiday Starter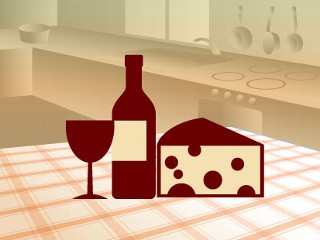 From the kitchen of Emeril Lagasse
This starter from Emeril Lagasse is fresh and flavorful. It makes 24 hor d'oeuvres.
Ingredients
24 very small new potatoes (about 3 lbs)
1 stick butter, melted (add more if needed)
2 tsp salt
1 fresh salmon fillet (8-oz)
3/4 tsp freshly ground black pepper
1 tsp sugar
3 tbsp red onion, minced
1 tbsp fresh chervil leaves, chopped
3 tbsp mayonnaise
Cooking Directions
Put the potatoes in a large pot and add water to cover and 1 tsp of the salt. Bring to a boil, reduce the heat to medium-heat, and cook until fork-tender, about 12 minutes. Remove from the heat, drain and let cool to room temperature.
Trim about 1/4 inch off each end of the potatoes. Using a paring knife or a small spoon, scoop out about three-quarters of the flesh of each potato from one end and reserve in a bowl. Place the potato shells on a parchment paper-lined baking sheet or work surface.
Season the salmon on the flesh side with 1/4 tsp of the salt, 1/8 tsp of the black pepper and the sugar. Heat a medium-size nonstick skillet over medium-high heat. Place the salmon flesh-side down in the hot skillet and cook for 3 minutes, then flip it over and cook on the other side for 2 minutes. Remove from the heat and let cool to room temperature, then flake the salmon with a fork.
With a fork, mash the reserved potato flesh. Add the onion, chervil, mayonnaise, 1/2 tsp of the salt and the remaining 1/2 tsp black pepper. Add the flaked fish and stir to mix.
Sprinkle the potato shells with the remaining 1/4 tsp salt and 1/8 tsp pepper. Spoon the mixture into the shells and serve at room temperature.
Recipe Summary
Main Ingredients: new potatoes, salmon, chervil leaves
Course: Appetizer/Starter