Dr. Dean Ornish's Creamy Corn Soup
A Light and Healthy Lunch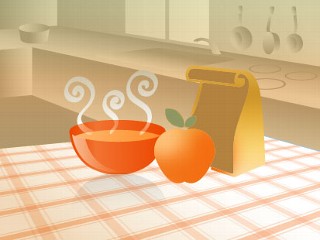 From the kitchen of Dr. Dean Ornish
Dr. Dean Ornish says that an ultra-low-fat diet can reverse the effects of heart disease.
Try his recipe for the Ginsberg's Creamy Corn Soup.
Ingredients
1 cup onion, finely diced (your choice of onion, yellow will do)
1/4 cup of vegetable broth (can be purchased at most markets)
3 cups corn kernels (fresh or frozen or 2 15-ounce cans corn kernels, drained)
2 tablespoons mild canned green chilies, diced
2 tablespoons red pimiento, diced
2 cups nonfat milk
Salt and pepper, to taste
Cayenne pepper (optional), to taste
1 tablespoon cilantro leaves (optional)
Cooking Directions
In a large saucepan, combine onion and vegetable broth. Bring to a simmer, cover over moderate heat and simmer until onion is softened, about 5 minutes.
Put 1/2 cup corn in a small bowl with chilies and pimiento. Stir to combine.
Add remaining 2 1/2 cups corn and milk to the onion. Bring to a boil. Cover, adjust heat to maintain a simmer and cook until corn is tender, about 5 minutes.
Cool slightly, then puree in a blender or food processor until smooth. Return soup to pot. Stir in corn, chili, pimiento mixture. Reheat gently; season to taste with salt and pepper. Add a pinch of cayenne pepper if you like more heat. Serve hot, garnishing each portion with cilantro, if desired.
Calories: 158 per serving Fat: 1.65 grams Cholesterol 2.2 mg Carbohydrate: 31.4 g Protein: 8.3 Sodium: 81.6 mg (with fresh corn and no salt added)
Tip: If you have leftovers, reheat the soup the following day with diced cooked potato to make a corn chowder.
c. Everyday Cooking with Dr. Dean Ornish, 2000
Recipe Summary
Main Ingredients: corn, green chilies, cayenne pepper
Course: Appetizer/Starter, Lunch, Soup, Vegetable
More Info: Heart Healthy, Low Fat