Wolfgang's Apricot Palatschinken
Wolfgang Puck's Easy-to-Follow Recipe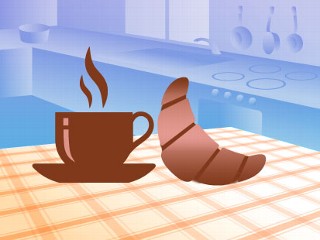 From the kitchen of Wolfgang Puck
Palatschinken translates as "pancakes with filling." The recipe for apricot crepes is very easy to follow. It serves approximately 8 to 12 people (24 crepes).
Ingredients
Crepe
1 egg
1 teaspoon sugar
pinch salt
1/2 cup all-purpose flour (plus 2 tablespoons)
3 tablespoons butter, melted
2/3 cup milk
1 tablespoon butter, for frying pan
Apricot Compote
1 pound apricots (about 6 medium), sliced in eighths
1/2 cup sugar
2 teaspoon vanilla extract
4 tablespoons orange juice
1 tablespoon lemon juice
Cooking Directions
In a small stainless steel mixing bowl, whisk together the ingredients in the order given above, creating a smooth batter. Put the batter through a strainer to get rid of any lumps, cover it with plastic and let it rest in the refrigerator for one hour. If you prefer, you can prepare the batter the day before you plan to make your crepes.
Remove the batter from the refrigerator and stir.
Brush a 12 inch nonstick frying pan with butter and put it on a low to medium heat. Ladle approximately 1 ounce of the batter into the pan, twirling by hand in a circular motion to create a very thin crepe. Cook crepe until golden, approximately 1 minute on each side.
In a medium saucepan, combine orange juice, lemon juice, sugar and 2 teaspoon vanilla extract. Bring to a boil. Add all of the sliced apricots and cook for 2 to 3 minutes.
Put 2 tablespoons of the apricot preserves into a crepe. Roll the crepe or fold it in half twice to make a quarter. Dust the crepe with powdered sugar.
c. 2000 Wolfgang Puck
Recipe Summary
Main Ingredients: apricots, vanilla, orange juice
Course: Brunch, Dessert