Lemon Meringue Cookies
Cut the Calories Cookies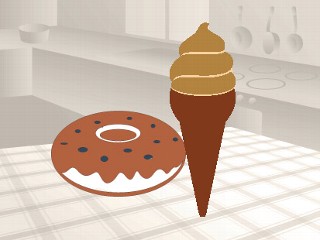 From the kitchen of Jenny Sacks
This Recipe for Lemon Meringue Cookies is from Good Morning America's "Cut the Calories Cookbook" and makes about two dozen cookies.
Ingredients
2 large egg whites
1/8 teaspoon salt
2/3 cup sugar
1 teaspoon lemon zest, finely grated
1 teaspoon vanilla extract
Cooking Directions
Preheat oven to 400 degrees. Line two baking sheets with baking parchment and set aside.
Beat egg whites and salt in small bowl at high electric-mixer speed until frothy. With mixer still at high speed, add sugar gradually and continue beating until meringue peaks stiffly (about 4 minutes). Beat in vanilla, then by hand fold in lemon zest.
Drop meringue from rounded teaspoon onto prepared baking sheets, spacing 2 inches apart. Set in oven, immediately turn oven off, and let cookies remain in the oven for 2 hours (you can leave them in overnight)
Peel meringue off parchment and store in airtight container.
Note: A cookie contains 23 calories, 0 g fat, 0 g cholesterol and 17 mg sodium.
Recipe from Good Morning America Cut the Calories Cookbook c.2000, Hyperion
Recipe Summary
Main Ingredients: egg whites, vanilla, lemon zest
Course: Dessert, Cookies
More Info: Low Fat