Low-Fat Peanut Butter Pie
Cut the Calories Cheesecake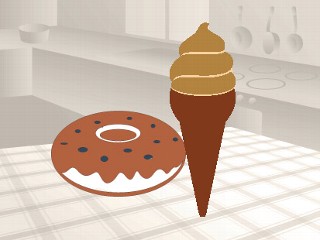 From the kitchen of Bobbie Lee Hatfield
This Recipe for Low-Fat Peanut Butter Pie is from Good Morning America's "Cut the Calories Cookbook" and makes a 9 inch cake.
Ingredients
1 can evaporated skim milk (12-ounce)
1 envelope plain gelatin (1/4-ounce)
1 package low-fat cream cheese (8-ounce Neufchatel), softened
1/2 cup confectioners sugar (10x)
3/4 cup reduced-fat creamy peanut butter
3 teaspoons vanilla extract
1 prepared low-fat graham-cracker crust (9- inch)
Cooking Directions
Whisk milk and gelatin together in medium-size heavy saucepan set over low heat. Whisk constantly until mixture boils and gelatin dissolves completely (about 2 minutes). Transfer to heatproof bowl and cool 15 minutes.
Meanwhile, beat cream cheese and 10X sugar at low mixer speed in large bowl until smooth (about 1 minute). Scrape down sides of bowl, add peanut butter and vanilla, and beat 1 minute more. Again scrape down sides of bowl. With mixer still at low speed, slowly add milk-gelatin mixture and beat until very smooth (about 2 minutes.) Don't forget to scrape down sides of bowl at half time.
Set pie crust in 10-inch pie pan or on small baking sheet (this is to catch any spills), then carefully pour in peanut butter filling (it will come right to top of crust). Set uncovered in refrigerator and chill several hours until set.
Cut into wedges and serve.
Note: Instead of using commercial low-fat whipped topping in this recipe, we've substituted low-fat cream cheese whipped until silky smooth with evaporated skim milk. Our taste testers pronounced the results "heavenly."
Pie contains 264 calories, 13 g fat, 17 mg cholesterol and 275 mg sodium.
Recipe from Good Morning America Cut the Calories Cookbook c.2000, Hyperion
Recipe Summary
Main Ingredients: evaporated skim milk, peanut butter, cream cheese
Course: Dessert
More Info: Low Fat