Wolfgang's Asparagus With Mustard Vinaigrette
Wolfgang Puck's Spicy Appetizers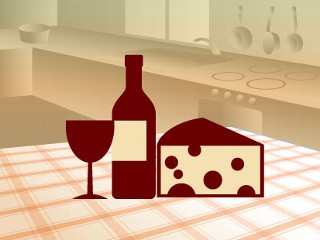 From the kitchen of Wolfgang Puck
Wolfgang Puck shared his recipe for Oscar night: Asparagus With Mustard Vinaigrette.
Ingredients
Asparagus
4 to 6 asparagus spears per person
2 tbsp. vinaigrette per person (see below)
Mustard Vinaigrette
2 tsp. Dijon mustard
2 tsp. fresh tarragon, minced
2 tbsp. sherry wine vinegar (or good wine vinegar)
2 egg yolks
1/4 tsp. salt
Pinch freshly ground pepper
2 cups salad oil (such as safflower or vegetable)
Cooking Directions
Peel the asparagus. In a large pot, bring heavily salted water to a boil. Place asparagus in the water and cook until tender but still firm (about 5 minutes from the time the water returns to a boil). Remove the asparagus from the pot and refresh in ice water to stop the cooking process.
With a wire whisk, combine all the ingredients except the oil. Slowly, in a steady stream, add the oil, continuing to whisk all the while.
Presentation: Arrange asparagus on individual plates and spoon over the dressing.
Recipe copyright ©2000 by Wolfgang Puck
Recipe Summary
Main Ingredients: asparagus, tarragon, dijon mustard
Course: Appetizer/Starter, Side Dish, Vegetable
More Info: Vegetarian