Homemade Chicken Soup
GMA's Favorite Chicken Noodle Soup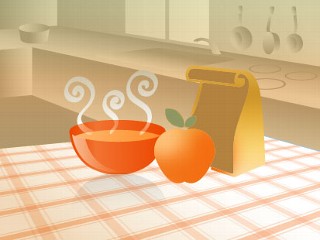 From the kitchen of Karen Pickus
|
After testing a number of recipes for chicken soup, GMA's Sara Moulton discovered that the homemade recipe by Chef Karen Pickus was the biggest hit among our audience of discriminating soup tasters. Take a look at our winning recipe for delicious homemade chicken soup.
Ingredients
3 1/2 lbs. chicken, quartered
3 ribs celery
2 medium onions
5 medium carrots
3 fresh sprigs parsley
2 fresh sprigs thyme
16 cups cold water (4 quarts)
6 oz. linguini
Cooking Directions
Wash chicken in cold water.
Put all ingredients, except linguini, in a 2-quart pot. Cover and bring quickly to a boil over high heat. With ladle, skim off impurities and foam that rise to the top.
Reduce heat to low and simmer gently uncovered for 2 hours, skimming 2 to 3 more times as impurities and foam develop on top.
Let soup cool for one hour. Season with salt and pepper to taste.
Strain, reserving liquid. Discard celery, onion and herbs. Set aside chicken and carrots. When cool enough to handle, remove chicken meat from bones, discarding bones and skin.
Cut chicken into bite size pieces and reserve. Slice carrots and reserve. Place chicken and carrots back in liquid stock, cover with plastic wrap against liquid, and refrigerate overnight. Then skim off fat, much of which will lift off against the plastic wrap.
Break linguini in half and cool according to package instructions.
Bring soup to a boil, then add linguini and simmer for 3 to 5 minutes, serve and enjoy.
Other Recipes That You Might Like