Peanut Butter Pie with Chocolate Honey Glaze
The Pie of Emeril's Eye Contest Finalist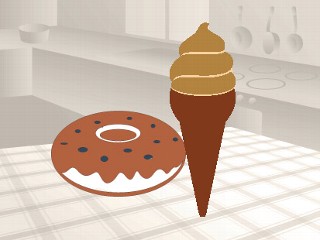 From the kitchen of Marilee Simon
This pie from Marilee Simon of Westerville, Ohio was a finalist in Emeril Lagasse's pie contest.
Ingredients
Crust
1 1/4 cups pretzel crumbs, finely crushed
1/2 cups sugar
1 stick butter, melted
Pie
6 Reeses Cups (or more if you like)
1 pint whipping cream
1/2 cup powdered sugar
8 oz. cream cheese softened
1 cup creamy peanut butter
1 cup powdered sugar
6 tbsp. milk
2 tsp. vanilla
1/2 cup peanuts
Glaze
2 tbsp. peanut butter
4 tbsp. honey
chocolate syrup
Cooking Directions
Combine crust ingredients well and press into a 9" pie pan. Bake for 6 to 8 minutes at 350 degrees. Remove and cool completely.
Make the Pie: Chop Reeses Cups and spread into cooled crust.
Whip cream until soft peaks form. Add powdered sugar and whip until peaks are stiff. Set aside.
In large bowl, cream peanut butter and cream cheese. Add powdered sugar and combine well. Add milk and vanilla and beat for one minute on high speed.
Fold whipped cream into cream cheese mixture until completely blended. Spoon into pie shell on top of Reeses Cups.
Garnish with peanuts or as desired. Pie must be refrigerated for at least four hours before serving. Store leftovers in refrigerator.
Make the Glaze: Combine peanut butter and honey until blended and smooth. Add chocolate syrup until desired consistency. Serve over individual pie slices.
Recipe copyright ©2000 by Emeril Lagasse
Recipe Summary
Main Ingredients: reese's cups, cream cheese, pretzel crumbs
Course: Dessert