Grilled Peaches and Ginger Syrup with Pound Cake
Emeril Lagasse Kicks Up Seasonal Favorites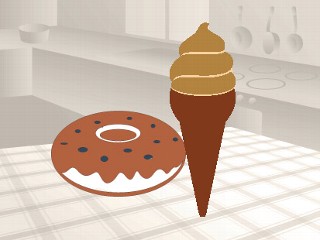 From the kitchen of Emeril Lagasse
Emeril Lagasse turned out some great new summer recipes on Good Morning America. Try them out at your next summer party.
Ingredients
1 cup water
1 cup sugar
1/4 cup ginger root, coarsely grated
2 Tbsp. lemon juice
4 firm and ripe peaches (about 1 pound), halved and pitted, cut in half lengthwise
4 slices pound cake, recipe below
Vanilla ice cream, optional accompaniment
4 sprigs fresh mint
Bittersweet cocoa powder, garnish
Pound Cake
2 sticks plus 1 teaspoon unsalted butter, softened
2 cups plus 2 teaspoons all-purpose flour
1 teaspoon baking powder
1/4 teaspoon salt
1 cup sugar
4 large eggs
1 teaspoon pure vanilla extract
Cooking Directions
In a medium saucepan, combine the water, sugar, and ginger, and lemon juice and bring to a boil. Reduce the heat to medium-low and simmer for 20 minutes. Remove from the heat and strain into a large bowl. Discard the ginger.
Preheat a grill to medium-high.
Place the peaches, cut sides down, on the grill and cook until marked and tender, 2 to 3 minutes. Add to the bowl with the ginger syrup and toss to coat evenly. Let sit for at least 15 minutes, tossing occasionally.
To serve, arrange 1 slice of pound cake in each of 4 shallow dessert bowls. Spoon the peaches and syrup over the cake and top, if desired, with a scoop of vanilla ice cream. Garnish each plate with a sprig of mint, sprinkle with powdered cocoa, and serve.
Pound Cake
Preheat the oven to 325° F. Grease a 9-x 4-x 3-inch baking pan with 1 teaspoon of butter, then lightly flour with 2 teaspoons of the flour.
Sift the remaining 2 cups of flour, baking powder, and salt into a bowl, and set aside.
Combine the butter and sugar in the bowl of a mixer and cream on high speed. Add the dry ingredients to the bowl, alternating with the eggs, beating on low speed, and scraping the sides of the bowl. Add the vanilla and beat until just incorporated.
Pour the batter into the prepared pan. Bake until the cake has risen, is golden brown on top, and a tester inserted into the center comes out clean, 1 hour and 10 minutes to 1 hour and 20 minutes.
Remove the cake from the oven and let it rest in the pan for 10 minutes, then turn out onto a cooling rack to cool for at least 1 hour before serving.
Recipes courtesy of Emeril Lagasse, © copyright 2004
Recipe Summary
Main Ingredients: peaches, gingerroot, mint
Course: Dessert