Warm Black-Eyed Pea Salad
Cooking with Faith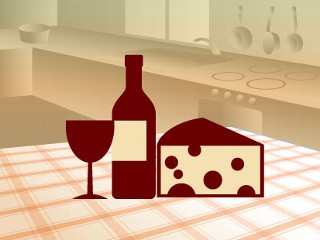 From the kitchen of Faith Ford
In her new book, Cooking With Faith, comic actress Faith Ford shares her down-home cooking recipes, southern classics that have been passed down from one generation of her family to the next.
Warm Black-Eyed Pea Salad
Ingredients
4 tablespoons olive oil
6 cloves garlic, chopped
2 cans black-eyed peas (15-ounce or 2 packages frozen black-eyed peas), rinsed and drained
1 teaspoon salt
2 large tomatoes, seeded and chopped
2 celery stalks, finely chopped
1/3 cup fresh basil, chopped
1/2 small red onion, finely chopped
1 Tablespoon balsamic vinegar
Cooking Directions
In a 1-or-2-quart saucepan, warm 2 tablespoons of the olive oil over medium heat. Add 4 cloves of the garlic and sauté until lightly browned, about 1 minute. Add the black-eyed peas, 1 cup water, and the salt. Cover and simmer for 5 to 20 minutes (canned take less time than frozen) until the peas are flavorful and tender.
In a large bowl, combine the tomatoes, celery, basil, onion, remaining 2 tablespoons olive oil, remaining 2 cloves garlic, and the balsamic vinegar. Toss well.
Strain the peas and add them to the bowl. Toss well to thoroughly coat them with dressing. This salad can be made up to two days ahead, covered with plastic wrap, and refrigerated. Serve warm or at room temperature.
Recipe Summary
Main Ingredients: black-eyed peas, basil, balsamic vinegar
Course: Vegetable, Appetizer/Starter, Salad, Side Dish