Emeril's Stilton Potato Gratin
Emeril Lagasse Kicks Up Potatoes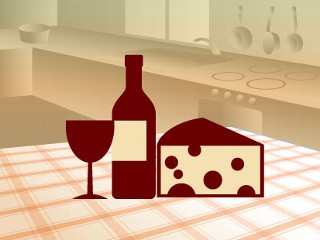 From the kitchen of Emeril Lagasse
In the spirit of "Good Morning America's" trip to the U.K., Emeril Lagasse demonstrated how to cook individual beef Wellingtons with perigroudine sauce and mushroom duxelles as well as stilton potato gratin and lemon meringue pie. These recipes are from Emeril's new book, "Emeril's Delmonico: A New Orleans Restaurant with a Past."
Ingredients
2 tsp. unsalted butter
2 1/2 pounds russet potatoes
1 1/4 tsp. salt
1/2 tsp. freshly ground black pepper
1 3/4 cups heavy cream
1 tbsp. shallots, finely chopped
1 tsp. garlic, minced
1 tsp. fresh thyme leaves
2/3 cup Stilton cheese or other good-quality blue cheese, crumbled
1 1/2 tsp. fresh parsley, chopped, for garnish
Cooking Directions
Preheat oven to 350° F. Grease a 9-inch square baking dish with the butter and set aside.
2. Peel the potatoes and cut crosswise into 1/8-inch slices. Toss the potatoes in a large bowl with 1 teaspoon of the salt and the pepper. Arrange half of the potatoes, slightly overlapping in the prepared dish.
3. Combine the cream, the remaining 1/4 teaspoon salt, the shallots, garlic, and thyme in a small saucepan, bring to a simmer, and simmer for 2 minutes. Ladle half of the hot cream mixture over the potatoes in the dish, evenly distributing the shallots and thyme with the back of the ladle. Crumble half of the cheese over the cream and potatoes, and make another layer each of the remaining potatoes, cream mixture and cheese. Cover tightly with aluminum foil and bake for 45 minutes. Carefully remove the foil and continue baking until bubbly and the top is golden brown, about 15 minutes.
4. Remove from the oven and let rest until firm enough to cut, 15 to 20 minutes. Cut into portions, garnish with the parsley, and serve hot.
Recipe copyright 2005, Emeril Lagasse from his cookbook, "Emeril's Delmonico: A New Orleans Restaurant with a Past"
Recipe Summary
Main Ingredients: potatoes, shallots, stilton
Course: Appetizer/Starter, Side Dish, Snack, Starch, Vegetable