Hallo'weenies' and Beanies
Halloween Recipes from the Feasty Boys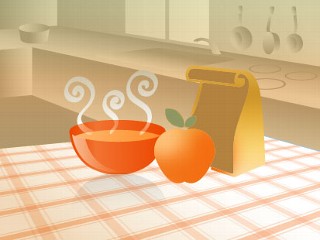 From the kitchen of The Feasty Boys
Are you looking for a special Halloween meal? The Feasty Boys -- Jon Mayer and Jim Stump of the popular ESPN show "The Feasty Boys" -- showed "Good Morning America Weekend Edition" how to make Hallo"weenies" and beanies and feasty Halloween caramel pie.
Ingredients
8 all-beef hot dogs
1/2 lb. ground beef
8 oz. bacon, chopped
1/2 cup onion, finely chopped
1/2 cup ketchup
1/2 cup dark brown sugar
1 tsp. prepared mustard
1 tbsp. white vinegar
1/2 tsp. salt
1/2 tsp. pepper
16 oz. can pork and beans
16 oz. can red kidney beans
16 oz. can navy beans
1 cup cheddar cheese, shredded
1 cup Monterey Jack cheese, shredded
6-8 large hard rolls
Cooking Directions
Grill/fry hot dogs until thoroughly cooked. Remove, allow to cool and cut into bite-sized pieces.
While the hot dogs cook, cut the tops off the hard rolls and remove most of the soft middle. The hollowed-out bread will act as a bowl -- therefore, it's important not to puncture the hard-crust shell in any way. Rub the inside and lids with softened butter and bake at 350 degrees for approximately 10 minutes. Remove and set aside.
In a large skillet, begin frying chopped bacon. Gradually add beef and onion. Once the mixture is thoroughly cooked, remove from heat, drain fat off the mixture, and place in a large bowl or pot. (Ideally, this recipe is prepared in a cast-iron Dutch oven just like they use to do it "out on the range." However, if your frontier cooking equipment is limited, a large baking dish will suffice.)
Mix with remaining ingredients, including the grilled hot dogs, and bake at 350 degrees for 30 minutes.
Ladle into bread bowls and serve.
This recipe is excellent during the colder months -- but for that extra Halloween twist, try serving in small, hollowed-out, decorated pumpkins instead of bread bowls.
Recipe Summary
Main Ingredients: hot dogs, bacon, brown sugar, beans
Course: Casserole, Lunch, Main Course