Fudge Overboard Cake
Betty Nicoson's Recipe is a Finalist in 'GMA's' Recipe Contest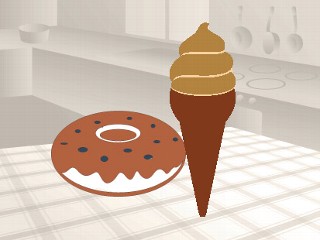 From the kitchen of Betty Nicoson
|
Betty Nicoson's Fudge Overboard Cake recipe is a finalist in "Emeril's Comfort for the Coast" contest.
This Fudge Overboard Cake has been a well-known friend of my family. This cake visits our house often. There is nothing better than a tall glass of milk and a large slice of freshly baked Fudge Overboard Cake to make you feel better and bring back childhood memories.
Ingredients
2 cups flour
2 eggs
3/4 cup cocoa
1 cup sour cream
2 cups sugar
1/2 cup vegetable oil
1 1/2 tsp baking powder
1 cup hot coffee
1 1/2 tsp baking soda
1 tsp vanilla
1 tsp salt
1 small jar of fudge topping (about 1/2 cup)
3/4 cup chocolate crushed wafers
2/3 cup cocoa
6 Tbsp butter
3/4 cup sour cream
1 tsp vanilla extract
1/4 tsp salt
2 or 3 Tbsp milk
3 cups confectioners' sugar
1 cup mini chocolate chips
1 cup pecans, chopped, toasted
1/2 cup chocolate chips, melted in microwave, for drizzling over top of finished cake
Cooking Directions
Preheat oven to 350°F. Lightly grease two 9" round cake pans and set aside.
In a large mixing bowl, mix together flour, cocoa, and sugar, baking powder, baking soda, and salt. Add eggs, sour cream, oil, hot coffee, vanilla.
Spoon cake batter into the prepared pans. Bake for 35 to 40 minutes or until a toothpick comes out clean when inserted in middle of cake.
Cool 10 minutes. Run a knife around insides of pans to loosen cake, then turn pans over on cooling rack to remove cake. Cool completely.
Spread fudge topping on one of the cake layers. Sprinkle crushed chocolate wafers over fudge topping. Place the other layer on top of the first layer so that the fudge is in the middle. Make the frosting. Melt butter and add cocoa together. Let cool and blend in the sour cream, vanilla, and salt.
Gradually add the confectioner's sugar and milk until the frosting is of spreading consistency, beat well.
Frost sides and top of cake with chocolate frosting. Sprinkle top of cake with pecans, and then press mini chocolate chips into sides of frosted cake. Melt 1/2 cup of chocolate chips in a zip-lock plastic baggie in microwave, cut corner of baggie and drizzle over top of cake. Enjoy!
Recipe copyright © 2005, Betty Nicoson
Other Recipes That You Might Like