Charred Tomato, Turkey & Tortilla Soup
Sara Moulton's Thanksgiving Leftover Recipes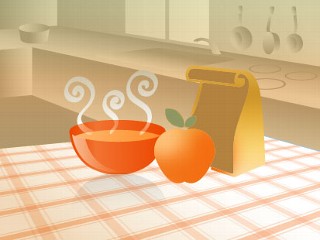 From the kitchen of Sara Moulton
|
"GMA" food editor Sara Moulton comes to the rescue with new and interesting ideas for making delicious dishes out of turkey day leftovers.
This is a robust turkey vegetable soup with great depth of flavor, which comes not only from its ingredients, but from the way they're cooked. The charring of the vegetables in the oven concentrates their natural sugars and adds smokiness. The thickening of the soup with a toasted tortilla, a classic Mexican technique, contributes a subtle corn flavor. Preparation-wise, this soup is a breeze. The vegetables, the tortillas and all the parts of the base are thrown into an oven together and then just pureed, bulked up with cooked turkey, and finished with lime juice. Serve with roasted vegetables and a tossed green salad.
Ingredients
12 plum tomatoes (about 2 1/2 pounds)
2 ears corn, husks removed (or 1 cup frozen corn, thawed and patted dry)
2 small unpeeled onions, halved
6 garlic cloves, unpeeled
1 tablespoon vegetable oil
1 teaspoon chili powder
Kosher salt
4 corn tortillas (6-inch each)
2 cups cooked turkey (from leftover roast turkey), shredded
1 can of chicken/turkey broth (14-oz.), or 1 3/4 cups chicken/turkey stock
2 tablespoons fresh lime juice
Freshly milled black pepper
1 ounce sharp Cheddar cheese (about 1/4 cup), grated
1 tablespoons fresh cilantro, rinsed, dried, and chopped
Cooking Directions
Preheat the broiler to high. Arrange the tomatoes, corn, onions, and garlic in one layer on a rimmed baking sheet and broil 4 inches from the heat, turning occasionally, until they are charred on the outside, about 10 minutes for the corn and garlic and about 18 minutes for the tomatoes and onions. Transfer the vegetables to a cutting board as they finish cooking and let them cool.
2. Combine the oil with the chili powder and 1/4 teaspoon salt and brush over one side of each tortilla. Cut 3 of the tortillas in half and then into 1/4-inch strips. Arrange the strips and the whole tortilla in one layer on a rimmed baking sheet and place the bottom shelf of the oven while the vegetables are under the broiler. If the tortillas are not crisp when the vegetables are charred, reduce the oven to 400° F and bake them for 6 to 7 minutes, until they are crisp.
3. Peel the tomatoes, onions and garlic and transfer in batches to a blender or food processor to puree. Crumble the whole tortilla and add it to the blender with one of the batches. Cut the corn kernels from the cobs.
4. Transfer the pureed vegetables from the blender to a large saucepan: stir in the turkey, broth and corn. Bring the soup to a boil over high heat: stir in the lime juice and salt and pepper to taste. Ladle into bowls and top each portion with some cheddar, cilantro and tortilla strips.
Other Recipes That You Might Like