Rustic Nut Bars
Holiday Cookie Face-Off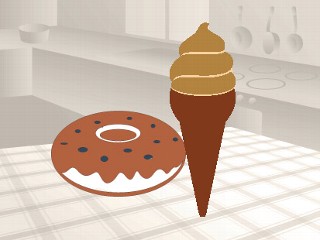 From the kitchen of Gourmet
Besides good cheer and presents beneath the tree, people share food during the holidays -- especially sweets. Cookies often are a favorite snack, especially considering that St. Nick is a cookie fanatic. Gourmet's Sara Moulton came to "GMA" to share some of the magazine's favorite cookie recipes.
The richness of almonds, hazelnuts, cashews and pistachios embodies the generosity of the season. A kiss of honey and brown sugar adds a sweet touch to these Rustic Nut Bars.
Ingredients
Crust
2 1/3 cups all-purpose flour
1/2 cup sugar
1/2 teaspoon
baking powder
1/2 teaspoon salt
1 1/2 sticks unsalted butter (3/4 cup), cold, cut into pieces
1 large egg, lightly beaten
Topping
1 cup whole almonds with skins (3 oz.)
1 cup hazelnuts (4 oz.)
2/3 cup mild honey
1/2 cup light brown sugar, packed
1/4 teaspoon salt
3/4 stick unsalted butter (6 tablespoons), cold, cut into pieces
2 tablespoons heavy cream
1 cup salted roasted cashews (6 oz.)
1 cup salted roasted shelled pistachios (5 oz.)
Cooking Directions
Begin by making the cookie crust. Put oven rack in middle position and preheat oven
to 375°F. Butter a 13-by-9-inch baking pan
(two inches deep) and line with two crisscrossed sheets of foil, leaving a two-inch overhang on all sides. Butter foil.
Whisk together flour, sugar, baking powder and salt, then blend in butter with your fingertips or a pastry blender (or pulse in a food processor) until mixture resembles coarse meal with pea-size butter lumps. Add egg and stir with a fork (or pulse) until a ball begins to form.
Turn out dough onto a work surface and divide into four portions. With heel of your hand, smear each portion once or twice in a forward motion. Gather dough together with scraper.
Press dough evenly onto bottom (but not up sides) of baking pan and bake until edges are golden and begin to pull away from sides of pan, 15 to 25 minutes. Cool in pan on a rack, about 40 minutes.
To make topping, reduce oven temperature to 350°F. Toast almonds and hazelnuts on separate sides of a shallow baking pan until fragrant and golden on the inside, eight to ten minutes. Rub hazelnuts in a kitchen towel to remove any loose skins (some skins may remain).
Increase oven temperature to 375°F. Bring honey, brown sugar, and salt to a boil in a three to four quart heavy saucepan over moderate heat, stirring until sugar is dissolved, then boil, without stirring, two minutes. Add butter and cream and boil, stirring, one minute. Remove from heat and stir in all nuts until coated.
Spread mixture evenly over crust and bake until topping is caramelized and bubbling, 15 to 25 minutes. Cool completely in pan on a rack. Lift dessert out of pan using foil overhang and cut into 64 bars. Peel bars from foil.
Nut bars keep, layered between sheets of wax paper or parchment, in an airtight container at room temperature for one week.
Makes 64 bars.
Recipe copyright © 2005, Gourmet Magazine.
Recipe Summary
Main Ingredients: almonds, hazelnuts, cashews, pistachios
Course: Dessert, Cookies